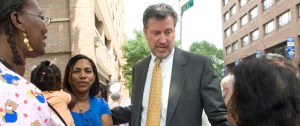 City Councilman Bill de Blasio wants to create a web site to track how New York City will spend the billions of dollars in stimulus funding coming here from Washington.
"The future of our city depends on making sure this federal aid is spent wisely and fairly. SunlightNYC will allow the public to see exactly how their money is being used, providing much needed accountability and transparency to the process," de Blasio said in a public statement.
De Blasio's site is intended to account for how each federal dollar is spent locally–sort of an other-end version of the White House site, Recovery.gov, according a de Blasio aide.
"I think at this moment, given what we've seen from the federal government over the last few years, it would be hard to assume that they would get every detail right," de Blasio said in a brief interview. "So, I think it's up to the city to really meticulously track what the federal stimulus money means for us."
De Blasio said despite the name, his site is not related to the Rasiej-linked Sunlight Foundation, which has pioneered efforts to use technology to improve government transparency, and which, with Andrew Cuomo, launched Project Sunlight in Albany.
There have been grumblings about the lack of input the Council has had in determining which projects here receive federal stimulus funding. And this kind of demand for government transparency and oversight is also a key function of the public advocate's office, for which de Blasio is a candidate.