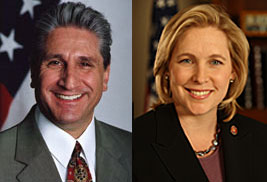 ALBANY—The attempt to schedule debates in the 20th Congressional District has turned into a familiar game of "let's make a date."
First, Assembly Republican leader Jim Tedisco's folks missed a meeting with radio station WROW, which wants to host a town hall forum in late March (League of Women Voters chapters from some counties are co-sponsoring). But Tedisco's people committed to attending later in the day. Democrat Scott Murphy's camp, represented at the planning meeting, has not committed to that debate.
Murphy, however, late last night accepted an invitation to a live televised debate hosted by The Times Union and WMHT. Tedisco has not yet committed to that.
"This is the typical two-party dysfunction," said Eric Sundwall, who is petitioning to get on the ballot as a Libertarian. And if he is on the ballot, Sundwall said, it looks like he'll be able to participate in the WROW debate.
UPDATE: Murphy's spokesman just said by phone that while Tedisco's camp "unilaterally picked a date" for the WROW debate that they have not yet agreed on, they are committed to a forum sometime in the last week of March.