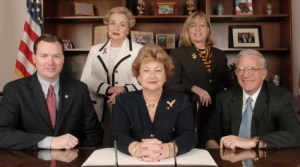 Monmouth County Democrats believed they had won control of the Board of Freeholders last November after a recount gave Democrat Amy Mallet a 346 vote victory over Republican John Curley, but a rivalry between the other two Democratic Freeholders appears to have returned control of county government to the Republicans. Freeholder Director Barbara McMorrow does not get along with Freeholder John D'Amico; as a result, McMorrow has formed an alliance with Republicans Robert Clifton and Lillian Burry that has allowed the GOP to keep many of their people in place, even though they are in the minority. This has frustrated some state party leaders, including Democratic State Chairman Joseph Cryan.
Democratic sources say that McMorrow, who was the first Democrat to win a Monmouth Freeholder race in twenty years, has not yet decided if she will seek re-election to a second term this year. There was some speculation that she might switch to the GOP, but some of her allies say that won't happen. Republican sources acknowledge that she has been asked. Democrats suggest that despite frustrations with her bi-partisanship, she remains their strongest candidate.
Clifton and D'Amico is up in 2010, and Burry and Mallet in 2011.
The conventional wisdom in Monmouth is that D'Amico has bullied McMorrow and seems to believe that he is in charge. Their two styles, one Monmouth Democratic source says, don't mix well. Mallet appears to be aligned with D'Amico, a former Superior Court Judge and State Parole Board Chairman who served briefly as a Freeholder and State Senator in the 1980's.