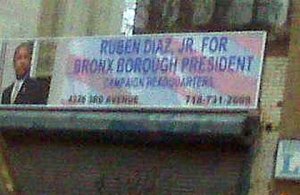 The White House sent out an email around 9:30 this morning formally announcing that Adolfo Carrion will be the White House director of urban affairs—which means he'll officially be vacating his spot as Bronx borough president.
Ruben Diaz Jr., who's vying to replace Carrion, already has a campaign office with a sign in the window.
This (slightly blurry) photo was sent in by a (very!) helpful reader.
UPDATE: Another Bronx-based reader IM'd to note that Diaz's office is located at 4226 Third Avenue in the Bronx, inside the City Council district of his rival, Joel Rivera.