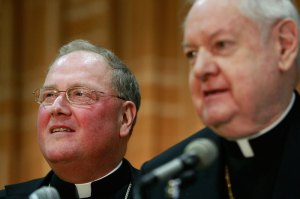 After presiding over the New York Archdiocese's bicentennial last year, Cardinal Edward Egan now becomes the first New York archbishop to retire. The prelates who preceded him all died on the job, which was the norm before the church implemented mandatory retirements. So the new archbishop, Timothy Dolan, faces an unprecedented dilemma: He will take over the nation's second-largest Roman Catholic archdiocese while his predecessor still breathes.
That might have been a challenge if Cardinal Egan had created the larger-than-life persona of his own predecessor, Cardinal John O'Connor, who died in 2000 at the age of 80 after a 16-year tenure. But Cardinal Egan never made it his business to dominate the news cycle, and never seemed comfortable with the media, as O'Connor was. (He was, his supporters would say, too busy straightening up the financial difficulties that O'Connor, never known as a bottom-line cleric, left behind.)
Cardinal Egan himself has hinted that he was conscious of the shadow cast by his formidable predecessor. Recently, the cardinal talked about the legendary Archbishop John Hughes, who built numerous schools, hospitals and other institutions during his stormy, memorable tenure from 1842 to 1864. He said he felt no small sympathy for Hughes' successor, the dimly remembered Cardinal John McCloskey, who reigned from 1864 to 1885. It was McCloskey, Cardinal Egan wryly noted, who had to figure out how to pay for John Hughes' building boom. As they say in Rome, touché!
Although Cardinal Egan apparently will continue to live in New York, he doesn't figure to overshadow his successor as O'Connor did from the grave during the cardinal's nine-year tenure. This will allow Archbishop Dolan to pursue his own priorities. They ought to include:
• Putting the bully back into the pulpit. The archbishop of New York is not the head of the American Catholic Church, but when he speaks, the nation listens. Cardinal Egan's reticence to seize the opportunity to teach, proclaim and witness suited his retiring, administrative personality. But another long period of silence from St. Patrick's Cathedral will be demoralizing for those who look to Fifth Avenue for moral leadership.
• Talking to the priests and nuns. There are a lot fewer of them now than when O'Connor became archbishop in 1984, and their numbers continue to dwindle. But they remain the foot soldiers of the archdiocese. Their work can be lonely and difficult. The new archbishop should remind them that their labors are not unappreciated.
• Rethinking the building blocks of Catholic education. Perhaps it's time to concede that the archdiocese can no longer afford to educate large numbers of non-Catholic students. Converting inner-city Catholic schools to charter schools, as the Brooklyn Diocese seeks to do, may offer parents, students and teachers an alternative to outright closures, and may allow the new archbishop to deploy resources toward the education of Catholic students, who, after all, ought to be the system's first priority.
• Interacting in a meaningful way with the laity. Cardinal O'Connor was popular, but not especially accessible to the average Catholic layperson. Cardinal Egan clearly was not cut out for retail religious politics. The new archbishop is said to be of the gregarious sort. (Some accounts link this character trait to his ethnicity—do other groups have certain identifiable character traits?) That trait could be put to good use through regular meetings with the people in the pews, whether in public or in private.
• Remembering that the New York Archdiocese is, and always was, an immigrant church. The leader of New York's Catholics can and should be an advocate for all immigrants, not just Catholics. But he also must bear in mind that the New York landscape is filled with quiet memorials to Catholic immigrants of the past. That includes churches like St. Brigid's in the East Village, which Cardinal Egan tried, regrettably, to close and tear down. Archbishop Dolan should avoid such lapses.
People forget that even media-savvy, charismatic John O'Connor had his share of missteps early on. Archbishop Dolan no doubt will make a few mistakes early on as well. But he's here for the long haul—he won't reach retirement age for another 16 years. His response to today's challenges will help determine the church's role in New York's civic life in the 21st century.
editorial@observer.com