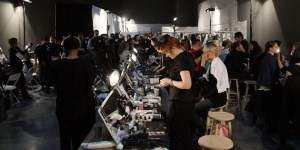 Rodarte is the fashion equivalent of a Basquiat: people in the know really love it, but to everyone else it's inscrutable or a little bit ugly. So it was no surprise that the couture-like label, designed by sisters Kate and Laura Mulleavy, managed to attract to its Tuesday runway show an insider-ish crowd including Anna Wintour, French Vogue's Carine Roitfeld, famed photographer Mario Testino, Barney's buyer Julie Gilhart, Paper's Kim Hastreiter, CFDA chief Diane von Furstenberg, actress-turned-scenester Kirsten Dunst, and Milla Jovovich—onetime star of Bruce Willis action films and more recently co-designer of the critically-praised (now defunct) fashion line Jovovich-Hawk.
One couldn't imagine Kim Kardashian or Nicole Richie getting past the clipboards here.
Elijah Wood, however, did! Finishing a call on his cell-phone in the front row, he said that Fashion Week "seems pretty chill to me." He'd also been spotted at Rag & Bone on Friday, but declined to explain his larger interest in fashion. "Well I'm here in support of Kate and Laura, because I'm friends with them and I think what they do is amazing," he said.
Was this because they live in Los Angeles, too? "They actually live in Pasadena," corrected Mr. Wood. He would only say he had met them through photographer Autumn de Wilde, a mutual friend.
"I just think they're incredibly artistic," he said. "And I think they're very expressive and the clothes are sort of very dramatic. Every show to me seems like an art project to them."
(Speaking of: Mr. Wood can be seen—er, heard?—in 9, a Tim Burton-produced animated film in which he voice-stars with Jennifer Connelly and John C. Reilly, later this year.)
The sisters Mulleavy's collection was, as usual, intricate and collage-like, featuring fewer diaphanous dresses than seasons' past but far more formidable footwear: the models wore high-heeled gray boots attached to leather straps bandaging their legs to mid-thigh. They had spurs. Or looked like they did. (One could almost picture them front-row at next season's show!)