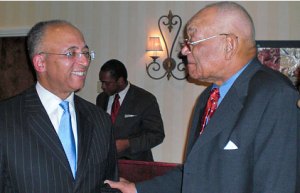 Barack Obama announced a $75 billion homeowner assistance program using funds leftover from the first bailout.
Kirsten Gillibrand got "the full Councilman Charles Barron experience" today.
Eric Holder says America is a "nation of cowards" when it comes to race.
Of the mayor's plan to invest $45 million in retraining laid-off Wall Street workers, Patrick McGeehan writes that it "unclear how much of the damage to Wall Street can be repaired with such a small investment by the city."
Council candidate Michael Cohen is offering a money-back guarantee to donors, in case Melinda Katz decides to run for the seat again.
Staten Island's North Shore Democrats are backing Ken Mitchell for City Council.
Daily Intel is lukewarm on Bloomberg's new campaign web site.
Amanda Burden's next rezoning project is...Canarsie.
Michael Bloomberg does not plan to get with the federal government's extension of food stamp benefits to adults without dependents.
Atlantic Yards may get stimulus money, but not from the M.T.A.
Jim Molinaro is very happy for Adolfo Carrion.
 
Marc Ambinder, unlike Matt Drudge, doesn't think that the prospect of a move to the "Swedish model" for banks is scary.
Nancy Pelosi met the Pope. The topic of abortion came up.
 
Mike Tomasky is into Clement Attlee.
Drupal! Just like us.