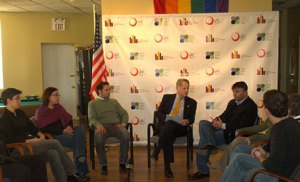 Christine Quinn had both big and small proposals in her State of the City speech.
Courtney Gross thinks Quinn's speech had "surprising optimism."
After all that, John Tabacco got kicked off the ballot for the February 24 special election on Staten Island.
A brewery in Red Hook has been ordered by federal agents to stop making "Hop Obama" beer.
A blogger at Rochester Turning is irate that half a million dollars are being cut from the state environmental protection program, but still no millionaire's tax.
Bill Thompson says public schools aren't doing enough about background checks.
This is what McCarren Pool will look like once it's really a pool.
In the comments section, readers offer information about forums for candidates in the February 24 special elections.
Also in the comments section, Pachyderm Pete writes, "Padavan's comments are just the beginning."
There have been bridge closures around the city all day because of wind.
The "changing" political climate has created turnover at the top of the Nuclear Energy Institute, the industry's main lobbying group.
In addition to many other downsides, recession is apparently bad for national security.