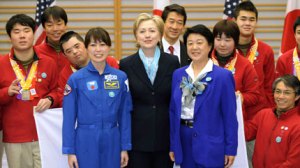 While State Senate Democrats enjoy the cars that come with majority, Assembly Republicans actually have more cars than any other conference.
A longtime aide to Tom DiNapoli is leaving, to be replaced by a former aide to Malcolm Smith.
On Urban Elephants, Michael Bloomberg is nominated for commerce secretary.
Larry Littlefield thinks Boston's public transport is at least as screwed up as the M.T.A.
A new blogger at Monroe Rising, Tin Foil Hat, hopes Obama isn't serious about supporting the Fairness Doctrine.
Marc Ambinder looks back at the Clinton transition and concludes, "Transitions are messy."