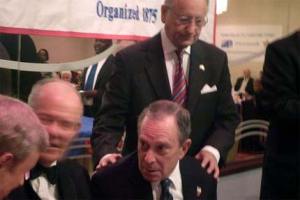 John Riley questions Chuck Schumer's rosy assessment of the federal stimulus package.
SUNY pleads in Albany.
It's a big night for fund-raisers in the Capitol, and Democrats are charging more this year.

Former rivals make up on the Assembly floor.
An Albany councilman calls for a probe of "ghost" tickets.
Dan Janison carefully considers Andrew Cuomo's appearance at the Conservative Party conference.
The Irish Echo says Tony Avella's horse-carriage legislation isn't going anywhere.
Kirsten Gillibrand visited a Brooklyn school where a student was recently killed by gun violence.
Florida (Republican) Governor Charlie Crist helped Obama sell the stimulus package in Ft. Myers.
EBay founder Meg Whitman is running for governor in California.
The S.E.C.'s top enforcement official is leaving.