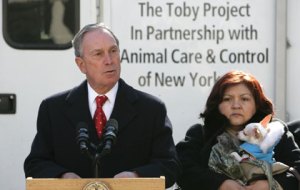 Two billion dollars arrive tomorrow!
Chuck Schumer wants the White House to tell governors that it's either all or nothing with stimulus funds.
Most troops will be out of Iraq by August 2010, according to a plan Obama will announce.
A low-turnout, low-publicity special election is a good place for the Working Families Party to make a mark, and they are trying.
Scott Murphy has started a petition to get his opponent, Jim Tedisco, to take a position on the stimulus. (via TAP)
State Comptroller Tom DiNapoli wants the legislature to overhaul laws governing the cleanup of polluted sites.
Dayo Olopade and Isaac Chotiner write that the media has blown a chance for a conversation on race by embracing the Post cartoon controversy while avoiding Eric Holder's speech.
Citibank is nearing a deal that would give the government a 40 percent stake.
Congress passed a bill with bipartisan support that has to do with limiting chimpanzee distribution.
Ben writes up an ongoing feud between Democratic pollsters Stan Greenberg and Mark Penn that seems petty but may be a clever way to sell books.
The Economist wonders how many more heroes we need.
George W. Bush is ready to get back on that horse.