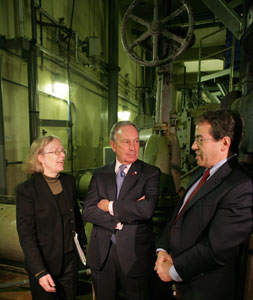 Obama officially signed the stimulus into law! And, there might be another one later.
Senator Roland Burris continues to contradict himself, but it seems fairly clear that he did fund-raise for Rod Blagojevich.
Chuck Schumer and Charlie Rangel are two New York politicians who received donations from a Texas financier accused of "massive ongoing fraud" by the S.E.C.
Irene Liu contrasts what Jim Tedisco said about the stimulus with what Kirsten Gillibrand said about TARP.
David Paterson says he isn't paying attention to his tanking poll numbers.
Here's a list of the 70 state workers who got raises during Paterson's hiring freeze.
"Oh Governor Paterson, really. We want to be on your side, but you're making it difficult," writes a blogger at Rochester Turning.
Council candidate Francisco Moya gets the endorsement of David Dinkins.
The State Senate Democrats have a newscast.
Dan Squadron fought and won to get a gate to the park in DUMBO reopened.
Rudy Giuliani endorsed Chris Christie for governor of New Jersey.