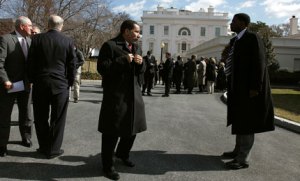 The first items in New York funded by the stimulus will be several road, bridge and highway projects.
Jack Davis, who has been donating heavily to the Niagara County Democrats for awhile, might switch back to being a Republican.
New Long Island State Senator Brian Foley thinks he'll need $1 million to get re-elected.
Jerry Skurnik blames local media for what will probably be a lackluster turnout tomorrow at the special elections.
The Forum News says City Council candidate Geraldine Chappey showed up to the debate they co-hosted with "an attitude. A bad one."
Anthony Weiner highlighted the work he did for a constituent who, it was revealed later, had a controversial past. His spokesman explains, "Our policy is to help constituents, not run background checks on them."
A commenter wonders why Giuliani is helping Bloomberg.
A labor leader was appointed to public office on Long Island.
The latest anti-M.T.A. materials will be appearing in the subway. So there.
Here's Bill Thompson on CNBC's Squawk Box this morning.
Andrew Cuomo is not through with John Thain.
What is Cuomo up to? One upstate blogger wants to know.
This weekend, Tom Wrobleski got polled about the mayor's race and received a Bloomberg campaign mailing. And he thinks that this might not be a coincidence.
 
Ben writes that the rise of Avigdor Lieberman "poses a major challenge for Israel's American allies."
Alex Pareene thinks the decision by CBS to hire a very partisan Republican to do P.R. is more stupid than insidious.