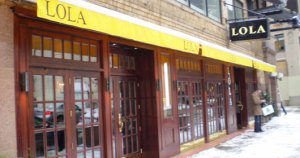 After one of the lengthiest and nastiest neighborhood liquor fights in years, embattled Soho restaurant Lola finally closed its doors last Friday.
Owners Tom and Gayle Patrick-Odeen had been banging heads with the bar-battling Soho Alliance over alcohol service and live music at their 192-seat, 3,300-square-foot eatery on Watts Street since 2004.
The longstanding struggle, which took on racial overtones, spurred multiple lawsuits and mounting legal bills — ultimately resulting in the business filing for Chapter 11 bankruptcy.
Landlord Vornado Realty Trust further threatened to terminate the restaurant's 15-year lease if the couple didn't pony up more than $100,000 in back rent.
"If my husband and I were a white couple … I don't believe [this would be happening]," said Ms. Patrick-Odeen, who hails from Barbados, in an interview with Black Enterprise magazine in December. "What we were hearing from people in the community is that [opponents] were saying things like we were going to be a tipping point to turn Soho into another Harlem, that we were opening a black, hip-hop club."
Speaking to Black Enterprise, Soho Alliance director Sean Sweeney flatly denied any overt racism. The intent, he said, was curbing the spread of booze in the neighborhood.
In conversations with The Observer, however, Mr. Sweeney liked to joke that he was secretly prejudiced against Swedes. (Mr. Patrick-Odeen is Swedish.) "They're so blond and beautiful," he chuckled.