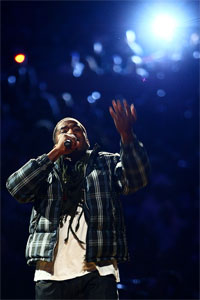 6 p.m. The New York Wine Expo. offers more than 170 producers and more than 600 sample wines. At the Jacob K. Javits Center, 655 West 34 Street. Admission ranges from $75-$95.

7 p.m. "Brother, Can You Spare Some Rent?: A Modern-Day Depression-Era Fundraiser" will be held to help preserve Williamsburg's City Reliquary Museum, which showcases N.Y.C.–centric oddities and artifacts. Event will feature "aside from a warm, fuzzy feeling for helping the community" is a chance to "pie the landlord," fortune-telling from Madame LuLu LoLo and "cheap-ass beer" from Brooklyn Brewery. Ticket price: At 370 Metropolitan Avenue and Havemeyer Street in Brooklyn. Ticket price: $10.

7 p.m. The Ukrainian Museum will screen "David Burliuk and the Japanese Avant-garde" at 222 East Sixth Street between Second and Third Avenues.

8 p.m. Van Morrison plays at the WaMu Theater at MSG, 32nd Street and 7th Avenue. Ticket prices range from $90- $350.
8 p.m. Talking Head David Byrne will perform songs from his collaboration with Brian Eno. Radio City Music Hall, 1260 6th Avenue. Ticket prices range from: $39.50 – 129.50

10 p.m. Music download site Beatport celebrates "half decade of servicing DJs and the clubbing community" with a party at 18
Little West 12th Street, between Ninth Ave and Washington Street. Tickets are: $25, $15 in advance.

10 p.m. Dim Mak Label represents an Alex English and G.B.H. return to Webster Hall with band: Girls & Boys. At 125 East 11th Street, between Third and Fourth Avenues. Tickets are $20, $10 in advance.

10 p.m. Santos Party House welcomes A Tribe Called Quest alum Q-Tip, joined by Rich Medina for dance party (upstairs) at 100 Lafayette Street. Admission is $10.
11 p.m. Bollywood Disco will be hosted at Vault at Element, where DJ Rekha dishes up " mix of discofied musical treats, concentrating on thumping subcontinental material from India's bustling film industry." At 225 East Houston Street and Essex. Admission is $10.