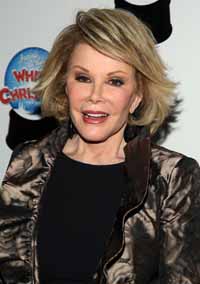 1:30 p.m. Tim Gunn will screen his new video short: "Fashion Victims," followed by Q&A with P.E.T.A. senior vice president Dan Mathews. At the Bryant Park Hotel screening room, 40 West 40th Street, between Fifth and Sixth Avenues.
6 p.m. Film presentation on psychiatrist, philosopher and author Frantz Fanon. At Founders Auditorium, 1650 Bedford Avenue, in Brooklyn.
6 p.m. Web2NewYork hosts networking party for post-internet media, advertising and business: with guests including Jordan English Gross of "Dorthy" and Kagiso Bond from "SwitchGames." At 120 Orchard Street.
7:30 p.m. Joan Rivers performs for the Slipper Room at 167 Orchard Street, proceeds to benefit "God's Love We Deliver."
8 p.m. Nick Hallett of Weimar New York and the Plantains will perform at The Stone. Avenue C and 2nd Street.