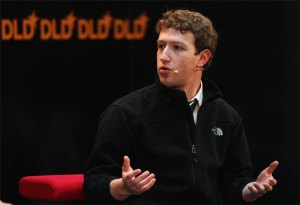 If you aren't already, you might want to be extra careful about what you post on Facebook. The site recently revised some critical words in their terms of service agreement which some claim allows them to use your pictures, videos, updates, or whatever else you post on the social network however they want to, for as long as they want to, even if you delete your profile.
UPDATE: Mark Zuckerberg wrote a response to the terms of service concerns on the Facebook blog to clarify the changes. He wrote that Facebook needs a license to use the information you post on your profile to share with your friends. True. And if you delete your profile, your friend should still be able to see the messages you sent them. "We think this is the right way for Facebook to work, and it is consistent with how other services like email work. One of the reasons we updated our terms was to make this more clear," he wrote.
But what about all that other information? Will it be shared outside of our networks? Well, he dances around the subject:
In reality, we wouldn't share your information in a way you wouldn't want. The trust you place in us as a safe place to share information is the most important part of what makes Facebook work. Our goal is to build great products and to communicate clearly to help people share more information in this trusted environment.
We still have work to do to communicate more clearly about these issues, and our terms are one example of this. Our philosophy that people own their information and control who they share it with has remained constant. A lot of the language in our terms is overly formal and protective of the rights we need to provide this service to you. Over time we will continue to clarify our positions and make the terms simpler.
Furthermore, this stuff is complicated! Mr. Zuckerberg:
People want full ownership and control of their information so they can turn off access to it at any time. At the same time, people also want to be able to bring the information others have shared with them—like email addresses, phone numbers, photos and so on—to other services and grant those services access to those people's information. These two positions are at odds with each other. There is no system today that enables me to share my email address with you and then simultaneously lets me control who you share it with and also lets you control what services you share it with.
He continues on
here
. Maybe this statement is enough to calm the Twitterati for now, but unfortunately for Mr. Zuckerberg and friends, the red flags have already been thrown.
The changes were made on Feb. 4, but with Consumerists' post on Feb. 15, the
Internet
is
in
a
frenzy
. 
Consumerist points out that most of the agreement had stayed the same:
You hereby grant Facebook an irrevocable, perpetual, non-exclusive, transferable, fully paid, worldwide license (with the right to sublicense) to (a) use, copy, publish, stream, store, retain, publicly perform or display, transmit, scan, reformat, modify, edit, frame, translate, excerpt, adapt, create derivative works and distribute (through multiple tiers), any User Content you (i) Post on or in connection with the Facebook Service or the promotion thereof subject only to your privacy settings or (ii) enable a user to Post, including by offering a Share Link on your website and (b) to use your name, likeness and image for any purpose, including commercial or advertising, each of (a) and (b) on or in connection with the Facebook Service or the promotion thereof.
But the new version removes an important couple of lines at the end of that section:
You may remove your User Content from the Site at any time. If you choose to remove your User Content, the license granted above will automatically expire, however you acknowledge that the Company may retain archived copies of your User Content.
Furthermore, the "Termination" section near the end of the TOS states:
The following sections will survive any termination of your use of the Facebook Service: Prohibited Conduct, User Content, Your Privacy Practices, Gift Credits, Ownership; Proprietary Rights, Licenses, Submissions, User Disputes; Complaints, Indemnity, General Disclaimers, Limitation on Liability, Termination and Changes to the Facebook Service, Arbitration, Governing Law; Venue and Jurisdiction and Other.
J.F. Quackenbush at WetAsphalt.com calms the flames by noting an an important line to consider:
You are only granting those rights "on or in connection with the Facebook Service or in the promotion thereof." What does that mean? Well, it means that you are licensing the use on Facebook branded websites or any other media and the Facebook Platform, which is the legal name for the APIs that allow third parties to create Facebook applications. So if there was a Facebook TV show, they could use your stuff on that. Or if they launched a Facebook concert series or a Facebook magazine, they could use your stuff in that. Presumably, if there were a Facebook dogfood, they could use your content on that. Or if they wanted to make an advertisement FOR any of those things, they could use your stuff in that. Precisely WHY Facebook would want to do any of those things, I leave to the reader to speculate on. What they most emphatically CAN'T do is what Walters claims, that "We can do anything we want with your content forever." They can do anything they want with your content ON Facebook or to Promote Facebook forever.
But others are more concerned about how this could affect our activity off Facebook. What about all those applications we use to bring in content from other sites, like Flickr and YouTube? Or even materials from our personal websites? "The license which you, as a Facebook user, grant to Facebook is very broad and it covers not just your content on Facebook but content you may have linked to from outside Facebook," explained Paul Jacobson, an attorney who specializes in social media and law, in a blog post that elaborates on Facebook's terms of service. "What the terms don't do is grant ownership but the license is so broad Facebook may as well own your content. What alarms me the most is that Facebook takes a license to the content you may only link to on Facebook and don't upload to the service. This covers photos you may have stored on Flickr, videos on Zoopy or Vimeo and more. This virtual land grab makes these terms of use a particularly invasive set of permissions."
Especially compared to other terms of service, according to New York University's digital cirriculum specialist Amanda French. She rounded up other social media networks' terms on her site, adding: "This one kills me: Facebook claims it can do whatever it wants with your content if you put a Share on Facebook link on your web page. Unbelievable–and unique, as far as I can tell. People can post links in Facebook to your content just by copying and pasting the URL, but if you want to save them a few keystrokes by putting a link or a widget on your site, Facebook claims that you've granted them a whole mess of rights. Count me out."
Should you delete your Facebook profile too? Maybe not. The important thing to remember about Facebook is this: They're not just there to play nice and let you share your every photo, note or status update with your friends. They are a business trying to create new money-making models with all of your information. So go ahead, have fun. But don't be fooled into thinking you can keep everything private and your content is yours and yours alone. And if you're really going to delete your profile in a huff, consider getting an internet drop from drop.io to share your info. instead.
Correction appended: J.F. Quackenbush's name was misspelled in an earlier version of this post.