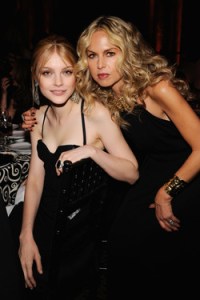 At Thursday night's American Foundation for AIDS Research (amFAR) gala at Cipriani, the attendees were all about the cause and less about Fashion Week, which officially kicked off the next day.
Among those present were Liza Minnelli and Donna Karan (both of whom were honored for their work for AIDS research), Kenneth Cole, Anna Wintour, Calvin Klein, and Mary J. Blige, plus a handful of actresses and models, who could mostly be found outside huddled together to smoke cigarettes.
Actress Natasha Richardson, who delivered a heartfelt speech during the evening's ceremony, put into words why there is actually nothing ironic about a glamour event for a life-threatening disease. "It's so important to come out and instead of talking about all the sadness and grief, to celebrate the people who do so much to change the situation," she told the Daily Transom. "Donna is being honored tonight and I am thrilled. She has been, right from the beginning, a great supporter of amfAR." Ms. Karan was honored by Ms. Wintour, who gave a surprisingly personal talk about the designer and her efforts for amfAR. (Ms. Richardson, who followed the Vogue editor onstage, remarked: "And they call her the ice queen!")
But it wasn't just the honorees—who, in addition to Ms. Karan and a very bubbly Ms. Minnelli, included Howard and Cindy Rachofsky, hosts of amfAR's Two by Two for AIDS and Art fund-raiser—who demonstrated their involvement with the battle against the disease. "I'm very involved with raising awareness of AIDS," said model Doutzen Kroes. "I do a lot of work with a Dutch charity as well. It's very important that people know what can be done about it and how to prevent it; that's why it's very important for me to be here."
Model Lily Donaldson agreed. "It means a lot to be here to support such a great cause," she said. "Because, you know, it's glitzy, but it's doing something."
But was anyone looking forward to anything during Fashion Week? "Marc Jacobs," said stylist Rachel Zoe. "Always."
Gossip Girl star Taylor Momsen concurred. "Marc Jacobs, his stuff is always amazing. But also Jen Kao, I think that'll be really fun and different."
"I'm just looking forward to seeing what's new," Mary J. Blige told the the Daily Transom. "That's it. What are people doing with how the recession is—I wanna see what people are doing with that."
Not Ms. Richardson, though. "I gracefully let other people get on with it this year, I'd be too shy," she said. "I'm not skinny enough!"