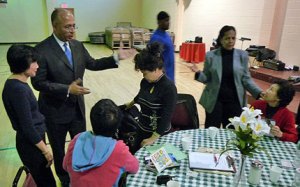 After campaigning at a senior center with mayoral candidate and Comptroller Bill Thompson this morning, City Council candidate Julissa Ferreras explained why she's so upset at the tactics of her opponents: robocalls.
"There's an automated call of a woman's voice saying I'm pulling out of the race," Ferreras told me after the event at a senior center on 34th Avenue in Corona.
Thompson, who was standing nearby, sighed in disgust.
Ferreras said the calls were reported to her by people who received them directly. The effect on her campaign, she said, has been positive.
"It's invigorating my supporters," she said. When asked who she thought was responsible for it, she said, "I have no idea who is behind it, but it's one of three people." 
Her opponents are Francisco Moya, George Dixon, and Eduardo Giraldo.