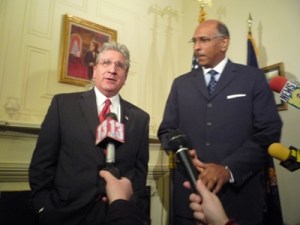 ALBANY—Republican National Committee Chairman Michael Steele said yesterday that the race in the 20th Congressional District is "going to be a battle royale. We've come to play."
Appearing in the brick townhouse on Capitol Hill that houses the Republican State Committee beneath a portrait of the state party's last colossus, Steele praised Assembly Minority Leader Jim Tedisco, the party's chosen candidate, and the two repeated a call for a special election to be held in the district immediately.
"I get the political gamesmanship, the folks who want to drag stuff out to give their side a chance to ramp up, but the people of this district can't wait and they shouldn't have to wait," Steele said. Tedisco is much more widely known in the district than his Democratic opponent, Scott Murphy, so more time is much more likely to benefit Democrats.
David Paterson has not yet set a date for the special election.
Steele's visit shows the importance the race has to national Republicans, a commitment that has not yet been matched by Democrats. The DCCC issued a press release yesterday afternoon attacking Tedisco for billing over $21,000 in seven years for oil and gas on his state car.
After the press conference, which started almost 45 minutes late, I caught Tedisco as he and Steele were leaving and asked him to respond to the Democrats' attack.
"I don't take any reimbursement for coming from Schenectady to Albany. What I do is take reimbursement for representing the Assembly Republican conference across the state of New York," Tedisco said. "I harness the voices by traveling, by having hearings, by speaking out across the state. That's my job."