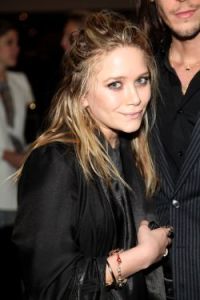 The guests who crowded into the Collective Hardware space on the Bowery on Tuesday night, Feb. 17, were mostly slender, tall, attractive, long-haired men and women, talking in a variety of European accents. They were there to toast Vladimir Restoin-Roitfeld, the 24-year-old son of French Vogue editor Carine Roitfeld, who had curated a group photography show with pictures taken by three of his close friends.
Among the photographs were topless photos of models (Erin Wasson, Susan Eldridge) by David Muchegan, photos of Juliette Lewis and urinals by P.C. Vlamorbida, and of course, the now-mandatory blown up shots of female genitalia, with a flower growing out of it in this case, by Salim Langatta. ("Is that you? No way! I knew it was her!" the Daily Transom overheard two models discussing while staring at the photo.)
Mr. Restoin-Roitfeld most recent achievements include graduating from University of Southern California, working as an assistant to a producer at Paramount for six months and doing some modeling for Rock & Republic. But since moving to New York about a year ago to be closer to his girlfriend, model Lily Donaldson, and his sister Julia Restoin-Roitfeld, he's decided to curate and organize photography shows for his friends.
"I want to work with people of my generation since I have so many people taking pictures around me," he told the Daily Transom when we phoned him the day before the show. "So I want keep on looking for talent, whether it's in photography or any type of art and see where it might go. Every time it's a big project to work on and I just started in this business, but I'm just trying to enjoy it."
Moving to the U.S. was originally his parents' idea, said Mr. Restoin-Roitfeld. But he found that he was quite pleased with his American education.
"When you grow up in Europe, you see all the American colleges on TV with campuses, and football fields, people playing sports, going to college in sunny places, and riding bikes or skateboards to school," he said. "USC was exactly how I pictured it. It was fantastic.
"But New York is home for now," he continued. "In LA, you're a bit far from your family and your friends." (Indeed, in New York he can at least see his mother twice a year when she comes to check out the shows; in fact, the whole family will likely get together for dinner at Indochine later this week, he said.)
Mr. Restoin-Roitfeld's new venture shouldn't be too hard to realize. There is his family's long list of art and fashion connections—Mario Testino, the fashion photographer, is his godfather. "Mario is practically part of the family; he used to pick me up from school when I was younger and take me to fashion shoots," said Mr. Restoin-Roitfeld. "I think that maybe by spending so much time with him that maybe I have a certain eye or an instinct for photography."
But Mr. Restoin-Roitfeld has also made some friends of his own from the many nights he's spent having cocktails at Rose Bar, dinner at Indochine, and attending various fashion parties with his girlfriend or sister.
Among the guests last night were Mary-Kate Olsen, The Misshapes' Leigh Lezark, model Gisele Bundchen, and socialites Genevieve Jones and Fabiola Beracasa.
"I'm good!" we overheard Ms. Jones tell Mr. Restoin-Roitfeld. "I need to go get some coffee though, I'm pretty tired." (We politely tried to ask Ms. Jones what she thought of some of the photographs, but she blew us off. "Oh, I'm not really good at this stuff," she told us. "Sorry, I'm really tired.")
Mr. Restoin-Roitfeld's mother and sister arrived on the later side and were immediately wrangled to pose for photos with the other guests.
"I've seen these before and I am very proud of these young guys," Carine told the Daily Transom in her heavy French accent. "It's good not to wait too long to be able to show your work. I'm very surprised by their talent because they are so young, you know?"
We wondered what the French Vogue editor thought of her son's new career path and if she thought it was the right fit for him.
"I don't know if he will do more shows or film, but when you try to produce things, it's a hard hard job, and I'm very proud of him," she replied. "I'll be very happy if he becomes successful."