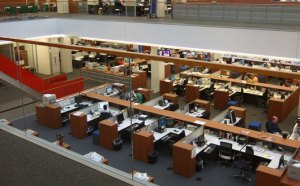 As Times metro reporters and editors made their way back to their Eighth Avenue offices after the holiday weekend, a little surprise greeted them in the third-floor newsroom: a brand-new nameplate on the side of an open cubicle that read "Arthur G. Sulzberger."
Mr. Sulzberger, the 28-year-old son of publisher Arthur Sulzberger Jr., will begin a reporting career at The New York Times for the Metro desk starting on Monday, Feb. 23. He'll write and report for the department's local blog, City Room.
Like his father, who reported for The Raleigh Times and the Associated Press before taking a reporting job in The Times' Washington bureau, which was followed by stints on the paper's Metro desk and then ultimately the paper's publishing side, Arthur G. is returning home after working as a reporter for The Oregonian and The Providence Journal.
Though Arthur Sulzberger Jr., 57, has never named his son a successor, Arthur G. has been treading his father's footsteps so far.
For those who have met Arthur Gregg Sulzberger—his middle name is the maiden name of his mother, Gail Gregg, who separated from Arthur Jr. last year—the reports are virtually universal: He's a nice guy, humble and a hard worker.
"He's incredibly down-to-earth, modest and eager to learn the right way," said one senior Times newsroom source. "If you look at his journalism, it's journalism that people here would produce."
"When I looked at his clips, I said 'Oooh! This guy ain't bad!'" the source added. "I was actually very pleasantly surprised."
"Quite nice, eager to please and humble," said another staffer.
"He is a very, very good reporter, he's dogged, he's exceedingly tenacious," said Sandy Rowe, the editor of The Oregonian, where Mr. Sulzberger worked as a reporter for over two years. "We were very glad to have him here, and I was very sorry to see him go back to New York, which I knew he'd do eventually."
Ms. Rowe quickly added that she knew this because she predicted it—Arthur never said a word about it.
Last summer, his father, Arthur Sulzberger Jr., went to managing editor Jill Abramson and asked if she thought he was ready. And his clips were pretty solid!
While Arthur G. was at The Oregonian, he covered the sheriff's office in Multnomah County, the biggest county in Oregon, and broke a series of stories.
"Sheriff Bernie Giusto was the longtime and greatly admired sheriff here, and there was a two-year investigation that was relentless, and Arthur's work helped push Giusto from office," said Ms. Rowe. "It was an official investigation, but our reporting kept on pushing the investigators."