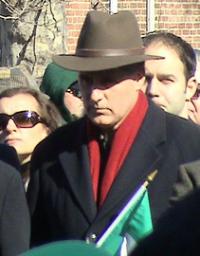 Ending a three-month recount process, Jim Gennaro finally conceded to incumbent state senator Frank Padavan.
In his statement, Gennaro, a Democrat, hammered away at Padavan for what he said was a systematic effort to "disenfranchise" voters, and said, "I call upon Mr. Padavan to apologize to every voter."
During the recount, Gennaro refused to concede to Padavan, whose lead at one point narrowed to just over 500 votes.
Padavan has said that it was Gennaro who was needlessly dragging this issue through the courts to overturn the official results.
Here's Gennaro's statement:
"2008 was an exciting and historic year for politics in America, and I'm proud to have been a part of it. All across the country and here in Queens, people cried out for change, and I'm proud that my campaign brought the promise of change to tens of thousands of doorsteps in a way unseen in four decades.

 

"I'm proud that almost 100,000 people voted in the 11th Senate District, and that half of those voters believed in and supported me. I'm proud that we ran an issue-based campaign, educating the public about my opponent's voting record, especially with regard to women's health and rights, and proposing fresh new ideas like building a green economy and protecting New York City's drinking water supply. I'm proud that we also enlightened voters to some of the serious problems that need addressing in Albany, like the billions of New York City taxpayer dollars that go to Albany to be distributed to other parts of our State and leave New York City struggling to pay for basic services. And I'm proud that we ran a campaign of complete inclusion, uniting a wide range of supporters of all ages, ethnicities, religions and walks of life who collectively represent a new 11th Senate District, one of the 21st Century.

 

 

"Little did I know, however, that another, even more significant campaign was to commence after Election Day. For the last three months, Frank Padavan and his Republican Party lawyers have used every resource at their disposal to wage a systematic and sustained effort to either disqualify or deny consideration of perfectly valid ballots. As important as any local election is, the right to vote and have that vote count is of paramount importance. This became our new focus – to fight Mr. Padavan's attempts to disenfranchise voters and to ensure that every valid ballot would be identified and counted. And, while we did not prevail in the election, we won a great victory: about 1,000 voters – Democrats, Republicans and Independents – who cast perfectly valid ballots in this most historic election – will now have their votes for President, U.S. Representative, State Senate, State Assembly and Supreme and Civil Court counted rather than discarded. I commend the NYS Supreme and Appellate Courts for their unwavering commitment to the integrity of the electoral process and the right to vote. I call upon Mr. Padavan to apologize to every voter he attempted to disenfranchise, and for him to apologize to the people of the 11th Senatorial District for dragging out this process into the new year and thereby causing them to be unrepresented in the State Senate since January 1st.

 

 

"The events of the last three months notwithstanding, I wish Mr. Padavan well and call for this election, once the vote count is completed, to be certified without further delay so that the people of the 11th Senate District can once again have representation in the State Senate.

 

 

"I take this opportunity to thank in a special way my wonderful and supportive family, inspired and relentless staff, energetic and spirited volunteers, loyal and generous supporters and all the voters of the 11th Senate District, who by participating in this election demonstrated their personal commitment to our community and our great country. It has been a great honor and a privilege for me to serve the public for the last 26 years in government and for the last seven years as a Councilman. I pledge to continue to fight for and serve the people of Northeast Queens. There is serious work to be done in fixing our economy, preserving our communities, protecting our environment and making sure that the world we leave our children is a better one than the one our parents left us."