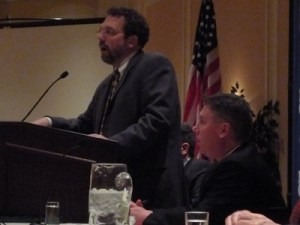 ALBANY—The New York Conference of Mayors' winter legislative meeting is this weekend, and the big word has been: stimulus. This morning, Chuck Schumer and Tom DiNapoli addressed the officials gathered at a downtown hotel about how and for what money will be spent, but the stimulus king himself—Tim Gilchrist—came just after lunch.
Gilchrist said that his goal is to spend the money as quickly as possible—some projects were announced this morning—to get people to work and to maximize New York's share.
"The reason we're doing this is that there are 120 days to spend a good portion of this money," Gilchrist said. "So what we need to do is take projects that really are shovel-ready and be flexible with our budgets, because if we rush through our allocation in less than 120 days and make it clear to the federal government that when they reallocate funding, we should get an increase, because Iowa or somewhere else didn't spend their money. Some of the projects that are going to come in aren't going to be ready. But if we free up money in the pipeline then new projects can be placed in line to receive older funding streams."
This means that "if you want to compete for federal highway money, your project, really, almost has to be on the transportation improvement program," Gilchrist said.
Several of the officials asked questions about how to apply for funds and exactly how the funding decisions would be made—the same questions reporters have been asking Gilchrist, and which haven't quite been answered.
He told one village mayor that it is not too late to apply for funding, though given his earlier statement, it seemed clear things will get tight, quickly.
"I now have a list of about $18 billion of projects to fit into a $4 billion pot," Gilchrist said. "I can tell you all that as elected officials, coming out and telling you that we're going to be able to fund $4 billion worth of projects makes you a very popular person. Until we figure out what those $4 billion of projects are, and then I'm going to be a very unpopular person. And I can go back to being the well-intentioned career bureaucrat that Richard Brodsky called me. And if I don't do it right I'll be a very obscure bureaucrat."