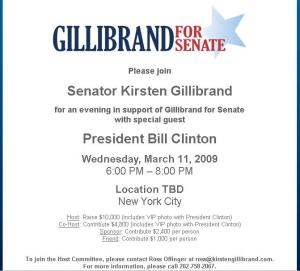 Bill Clinton will headline a fund-raiser for Kirsten Gillibrand, the newly appointed senator who is reportedly concerned about her prospects for election in 2010.
The ticket prices for the event range from $1,000 for "friends" to $10,000 for "hosts," which includes a V.I.P. reception and a photo with Clinton.
It also, I believe, marks one of the first, if not the first major political event in New York Clinton has attended since Hillary became secretary of state, necessarily curtailing her political activities.