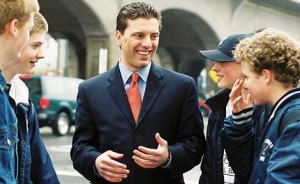 Now that former public advocate Mark Green has joined the competitive race for his old job, it's likely that at least some of those rivals will argue that the office needs something new.
That's the message delivered in the endorsement Eric Gioia just received from the Sergeants Benevolent Association and the Captains Endowment Association.
"Eric will bring new energy and vision to the job of Public Advocate," said SBA President Ed Mullins in a statement released from Gioia's campaign.
"For today's New York, Eric Gioia is the right person to serve as Public Advocate," said CEA president Roy Richter, whose statement was also released by the campaign.
Gioia announced an endorsement that seemed similarly pointed after Bill de Blasio joined the race.