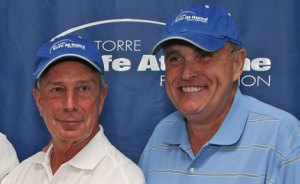 As Liz reported he would, Rudy Giualini called Queens County Republican Chair Phil Ragusa this morning to make the case for allowing Michael Bloomberg to run in the G.O.P.
Ragusa told me the call was "very short" and friendly, but ultimately didn't change his attitude. (Ragusa has been critical of Bloomberg.)
Since Bloomberg is not a Republican party member, he needs the vote of three of five county chairs to run on the ballot line.
"He talked about the virtues of Mike Bloomberg, and we said we're going to be screening him and other candidates for the position," Ragusa recalled.
Ragusa was reluctant to describe in detail the conversation, but said Giuliani did not mention Bloomberg's vast personal fortune as one of his "virtues."