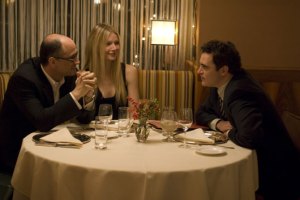 Two Lovers
Running time 108 minutes
Written by Richard Menello and James Gray
Directed by James Gray
Starring Joaquin Phoenix, Gwyneth Paltrow, Vinessa Shaw, Moni Moshonov, Isabella Rossellini, Elias Koteas
On Valentine's Day, date movies usually proliferate. This year, with so many slasher flicks, techno-thrillers and alleged comedies marketed for mental retards, you're better off staying home with a box of chocolate truffles. One interesting exception is Two Lovers with Gwyneth Paltrow and Joaquin Phoenix, two actors who almost never land a role worthy of their talents. (Were Shakespeare in Love and Walk the Line just flukes?)
Two Lovers has roots in pure soap opera, but its gentle pacing and delicate performances lift it blithely above the dangers of parody as it tells the story of two tortured misfits groping in the dark for human contact. Mr. Phoenix plays Leonard, a stammering bipolar man with an almost visibly agonizing inability to communicate, living at home and working as a deliveryboy in his family's dry cleaning business across the river from Manhattan. The film begins when he jumps off a bridge to commit suicide, then swims back to the surface to clear up some unfinished business with his empty life. Leonard has a history of such attempts, and when he goes off his meds, his worried mother (Isabella Rossellini) has good reason for her gray hair. But Leonard is no ordinary sad-faced Jewish failure heading for middle age with diffidence and dread. He's nice, polite to a fault, something of a clown around children, but so depressed he sleeps all day. "Like a vampire," sighs his overprotective mother. Things brighten when an alluring blond shiksa named Michelle (Ms. Paltrow) moves into the building and a casual friendship turns obsessional. She drags Leonard to Manhattan into the heart of the club scene, and for a while Leonard goes down the rabbit hole. Leonard's parents have already picked out a sweet Jewish girl named Sandra (Vinessa Shaw) to share his life, but once he falls under the spell of the gorgeous all-American Michelle, quiet evenings at home with Chinese takeout no longer have the same homey appeal. Ms. Paltrow (who in real life is half-Jewish herself) is the quintessential WASP dream girl from The Heartbreak Kid.
Unfortunately, she has more problems than Leonard does. Michelle is in the middle of a miserable affair with a married man, pregnant, and no stranger to alcohol and drugs. He's torn between two women—the available Jewish girl who loves him unconditionally but bores him, and his pill-popping neurotic neighbor, beautiful but lost. Sandra's family wants to set him up in business, guaranteeing him a future with security. But Leonard is hooked on the wrong girl—carrying Michelle to the hospital when she has a miscarriage, meeting her on the roof at dawn to lend a sympathetic ear to her troubles, ordering tickets for them both to escape to a new life in San Francisco and buying an engagement ring. I'm taking no bets on what happens next, but suffice it to say Two Lovers is a case of the blind leading the blind, each having just enough vision to break the other's heart.
Directed by James Gray—who specializes in gangster themes like The Yards and We Own the Night, both of which starred Mr. Phoenix—this film, inspired by the Dostoyevsky story "White Nights," marks a welcome change of pace, and is devoid of the unexpected. From the opening shot of a bird flying across the misty skyline before settling on Leonard's aborted suicide jump, contrasting animal freedom with human entrapment, Two Lovers might be too well crafted—and possibly too old-fashioned and traditional—to cause much excitement among pretentious critics. But in every sense of the word, it's an adult film that wears its heart on its sleeve—a giant step forward for Mr. Gray. And for Ms. Paltrow, who hasn't appeared in a deserving role since playing suicidal poet Sylvia Plath in 2003. Mr. Phoenix is an extraordinary mixture of vulnerability, infantilism, sophistication and self-delusion. His attempt to woo Michelle with a flash of bold John Travolta break dancing is a great scene, and with his manic moods switching between ecstasy and depression, his stupid mistakes, social gaffes and juvenile attempts at humor are rendered all the more touching. At 34, with a maturity beyond his years, he's one of the screen's most admirable risk takers, but since the completion of Two Lovers, he's announced his retirement from acting to pursue a career in rap music. If true, it's a big loss. Recent news photos reveal him to be overweight and unkempt, his face covered with long, freaky hair. What gets into these people? Have they stayed too long at the fair? Or is it the Hollywood tap water?
rreed@observer.com