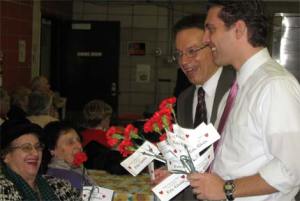 The House passed the new stimulus bill, with no Republican support.
The Republican chairs aren't budging on Michael Bloomberg just yet.
Pedro Espada sent out fund-raising mail on official stationary–and gave himself an inflated title.
Eliot Brown writes that it's possible Atlantic Yards could qualify for stimulus funds, but David Paterson would walk into a "hornets nest" if he gave the project money.
The city's Campaign Finance Board added Bloomberg's name to the list of mayoral candidates.
John Riley is up in arms about Paterson's $20,000 hotel bill.
Several community groups around Chinatown have filed a suit to stop the planned rezoning of the Lower East Side.
Rafael Cestero may get stuck solving a problem he helped to create with the city's affordable housing plan.
Bill Thompson is going to Albany this weekend.
JPMorgan and Citigroup are putting  a moratorium on foreclosures until it become clear what Obama will do about it.
The Economist doesn't really get why Republicans are worked up over the census.