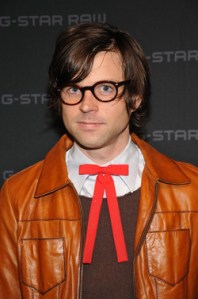 We weren't quite sure whether to believe the "Ryan Adams and Mandy Moore are engaged" rumor yesterday afternoon when it surfaced on the blogs. But now that Page Six and Us Weekly are reporting it—Ms. Moore's rep confirmed it and everything—it must be fact.
We suppose we owe Mr. Adams an apology for recently labeling him a Homme Fatale—a dangerous type of guy who comes off harmless and sensitive at first, but ultimately proves to be completely undatable.
We described the archetype that included Mr. Adams, as well as actors Josh Hartnett and Justin Long, thusly: 
Often the creative type, he projects a deceptive vulnerability, while maintaining an appealing confidence. He's usually not the best-looking guy in the room, but he is the smartest; he turns these traits to his advantage, playing up the contrast with the typical hot guy or womanizer (physical inferiority, emotional evolvement). His courtship begins with a rushed sense of intimacy and, yet, a disarming lack of forward physical advances; a first date might involve a game of Scrabble or perhaps a cup of tea; his target usually leaves wondering if in fact it was a date at all. And yet the story always has the same ending—he grows distant, stops calling and eventually disappears with little explanation, if any.
In our defense, Mr. Adams displayed all the signs. He was geeky in a hot sort of way, poetic, talented, sensitive, and lonely-seeming. And then there was his capricious dating history.
Mr. Adams' conquests became frequently documented subject matter in gossip columns somewhere around the time when he reportedly broke up with actress Parker Posey to get with socialite (and former Observer staffer) Jessica Joffe. When that didn't work out, Mr. Adams maneuvered his way to Ms. Moore. But then they too broke up. And even though much of this was documented on his blog, Mr. Adams blamed the media attention for the split.
"Unfortunately I am allergic to paparazzi and have found the best antidote to that sort of nonsense is staying behind the guitar and typewriter, staying close to my support group of friends and band mates and not engaging in activities that prevent me from taking care of myself or others," Mr. Adams explained to OK! magazine (of all places) in July when the couple broke up. "I found the entire speculation and subsequent photographs and intrusions terrifying and only wish to live as normal a life as possible, so that I might always remain punk as f*** AND sober."
As charming as this explanation was, Ms. Moore moved on, re-dating DJ AM, whom she dated before getting together with Mr. Adams. But then, somehow, Mr Adams and the actress got back together and were again spotted by photographers. (Earlier this week, Women's Wear Daily reported that Ms. Moore was accompanied by her "boyfriend," Mr. Adams, on a trip to Tokyo to perform at the opening of Coach's new headquarters.)
All of which bring us to the engagement. Will Mr. Adams follow through? Will he break the Homme Fatale pattern? Will women regain hope in the vulnerable, mildly damaged, creative guys again? We sure hope so.