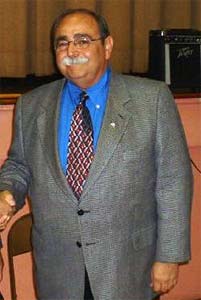 Queens County Republican Chairman Phil Ragusa—whose borough has the most registered Republican voters—isn't ruling out letting Michael Bloomberg run in the party's mayoral primary, but said he's still upset the at the treatment he and the Republican Party have gotten from City Hall for the last two years.
Calling himself a "reasonable person" and not a "stone wall," Ragusa said in a brief phone interview that Bloomberg still had a chance to win him over before a February 25 meeting at which candidates will speak with county chairs.
But Ragusa couldn't say exactly what Bloomberg would need to do in order for that to happen. "If you guys are looking for a crack in the door, there is none," he said.
Ragusa insisted he wouldn't be pushed into supporting Bloomberg just because State Senator Frank Padavan, one of the last remaining Republican elected officials in his borough, supports the mayor.
"Why are we chairman? Why are we the leaders of the party? To lead," Ragusa said. "Frank is a great senator. That's why we worked so hard to get him elected, but when it comes to politics—he does more of the legislative work than the politics. Politics should be left to the chairman of the party, and that's what we're doing."
Ragusa disagreed with the notion that supporting Bloomberg was a practical choice, given his ability to deliver resources to endangered city Republicans like Padavan and Marty Golden in Brooklyn.
"Who's to say he's going to deliver anything," said Ragusa.
Ragusa and the four other Republican county leaders are having a "screening" meeting February 25 in Manhattan, where Bloomberg will make his case for being allowed to run in their party.
Bloomberg had been the Republican party's mayoral nominee before re-registering as an independent in the run-up to his potential presidential race last year.
"Look, I don't know what's going to come of the meeting," said Ragusa.
Two weeks ago, at a dinner hosted by the Queens Village Republican Club last week, Bloomberg and Ragusa were in the same room. They didn't so much as shake hands.
"There is a lot of hurt that has been done in the last two years," Ragusa said.