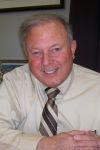 MORRISTOWN – For several weeks now, the signs have beensolid in the form of friends circulating petitions and allies receiving phone calls:Mayor Donald Cresitello is running for reelection.
On Thursday evening, he intends to make it official at the Hyatt Hotel, according to sources on the ground here.
To some a brazen creature of intolerance based on his stand against illegal immigrants, to others the embodiment of Lyndon Johnson on the local level with his hard mechanical understanding of government and politics and old fashioned work ethic, Cresitello is reportedly ready for a Democratic Party primary showdown with former Councilman Tim Dougherty.
"I'm full of energy" said Cresitello, 63. "I don't play golf. I'm not into sport. Running government is not just business, it's enjoyment. When I'm done with my sport, which I call politics, I'll have a record of accomplishment that people can see."
The Italian-American contractor, who started work on construction sites as a 16-year old, was elected alderman in Morristown in 1972. Six years later, he became mayor, lost reelection, was off the council for two years, then back for eight, out for four, then back until now, having won the 2005 mayoral campaign.
"I have more experience in government than Tim Dougherty," said Cresitello, who works for the Schools Construction Authority. "I've been in government for 37 years and served in elected office for 31 years. I know Tim wants to be the mayor but it's not about wanting to be the mayor, it's about being the mayor. He just lacks the experience."
So Cresitello wants four more years, in what would be his first back-to-back terms as mayor.
His allies say over the course of the last three plus years he successfully tightened zoning ordinances, improved the town's master plan and enforcement of codes, helped expand redevelopment, cut insurance premium costs for town employees and – and this is the controversial part – fought absentee landlords who stacked their properties with illegal immigrants.
His foes amassed at a Morristown Pro-America rally in the summer of 2007 to protest his calls for federal tools to fight the local influx of undocumented workers seethed when he took them on from the stage, denouncing them as Marxists.
But Cresitello argues that he has championed affordable housing in his town beyond what the state mandates. The 650-unit Speedwell condominium project, for example, contains 20% affordable units.
In addition, he implemented no tax increases during his first two years in office, followed by last year's 1.7% increase.
"2009 is the most difficult year of the four because of our inability to reap investment profits," Cresitello said. "It's a huge challenge, but I don't see huge budget increase. Under my predecessor, over the course of four years, taxes went up 70%. We've gone up 1.7%, and by the time we're done with this year's budget, we will have probably gone up under 8% total, during my four years in office. I don't know that there's any other mayor in the state who can make that claim."
Dougherty last week announced his decision to run for mayor and there's early street buzz that he plans to target the mayor's two-year efforts to land himself a raise in office.
"The reason Dougherty opposed the salary increase is he didn't want anyone to run against me," Cresitello said. "He didn't want the job to be more attractive to prospective opponents. He wants to be a ceremonial mayor. He wants to cut ribbons. He doesn't have business acumen or expertise."
Cresitello three times asked the council who twiceasked the voters to beef up the mayor's part-time salary from $26,000 to $31,000, and twice the voters said no.
"They're not going to get me a pay raise, ok, I understand," said the mayor, "so I'm not going to seek a pay raise. If Doughterty (a council member during the last mayoral administration) brings that up, my position is, 'I sought pay raise, but taxes went up 70 % under your watch.'"
In addition to the mayor's seat,three at-large council seats are in play this year. Sources say Cresitello will run with two incumbents: Council President Tony Cattano and Councilman John Cryan, the cousin of State Party Chairman Joe Cryan.
The third at-large incumbent, Councilwoman Michelle Harris-King, won't run with the mayor. Cresitello has 4-3 control of the council, with Harris-King not among those who call themselves Cresitello allies.
Contacted today, Cryan acknowledged the emerging battle lines.
"I would not like to have a Democratic Primary, especially with an aggressive and angry Republican Party on the horizon," said the councilman. "It will greatly affect fundraising for the general, especially with the new pay-to-play law, but everyone has a right to run."
His friendsadmit Cresitello can make it hard, but his knowledge of governmentandabilitytodeliver more thanmake up forhis rougher edges.
"Some people say I micromanage," said Cresitello. "I don't. I manage. At this point, I just can't turn the government over to someone who lacks experience. I would hope he (Dougherty) reconsiders, but if he wants a battle, he'll get one. They thought they had the tombstone over me in the past.
"I have a better record to run on than four years ago. We won't have to spend the kind of money I spent four years ago. The choice will come down to who can be the better mayor: a guy who smiles and slaps you on the back and tells you how great you are, or a guy who runs the town like a business."
Cresitello's views on illegal immigration and outspoken style in general haven't exactly endeared him to the Corzine administration, but he also famously called out Corzine's most likely general election opponent, then-U.S. Attorney Chris Christie, for not enforcing existing federal immigration laws.
"There's no question I considered running for governor against Corzine,"said Cresitello, who last year was buried in his primary bid against U.S. Sen. Frank Lautenberg (D-Cliffside Park).
"I have made the decision to support Corzine in his reelection bid, and hopefully he'll support me," the mayor added. "Chris Christie has no experience in government and given his history of pandering to illegals, he'll pander to other interest groups, too. Corzine is honest, at least, and he has integrity. He's been dealt a very difficult deck of cards. He hasn't had the resources. No, he didn't streamline government the way I would have liked, but then, I'm a street guy. I like the bottom. I'm looking up, and from here I see the inefficiencies."