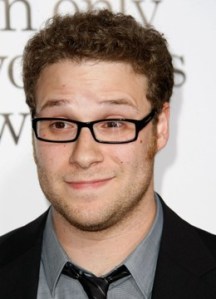 We've been pretty hard on Seth Rogen during the last six months. Pineapple Express failed to live up to our expectations (though admittedly, those expectations might have been pitched too high); Zach and Miri Make a Porno was an utter train wreck (though admittedly, that had more to do with Kevin Smith than anything Mr. Rogen had control over); and The Green Hornet has been a mess from jumpstreet–a bad idea all-around that may or may not hit theaters in June of 2010. So it was with much joy that we watched the Red Band trailer for his upcoming entry into the budding mall cop genre, Observe and Report. However, while we think it looks unequivocally funny and sadistically dark–think Judd Apatow by way of Taxi Driver—Observe and Report seems destined to be a spectacular bomb. As one of our friends so accurately put it, this is Seth Rogen's Cable Guy. But that made us wonder: Is Seth Rogen enough of a movie star to even have his own Cable Guy?
Of course, if we worked on his management team, we'd be touting how big of a movie star Mr. Rogen truly is. We'd stress that while he's only starred in a handful of live action films, three of them have grossed over $100 million (The 40-Year-Old Virgin, Superbad and Knocked Up). And while we're at it, the decidedly non-box-office-friendly Pineapple Express, an R-rated pot comedy directed by indie stalwart David Gordon Green, grossed almost $90 million this past summer. But those numbers don't tell the whole story.
The problem with Mr. Rogen is that he's got unreasonable box office expectations attached to his name after Knocked Up (and, to a lesser extent, Superbad). He's been in hit movies, but just because those movies did extremely well doesn't mean he's Jim Carrey or Ben Stiller.  Knocked Up could have starred Jonah Hill and earned the same gross. Lest we forget, it was Mr. Rogen's big head that sold Knocked Up; his name was nowhere to be found on the poster. In fact, the only movie that ever did rely on Mr. Rogen's name being above the title was Zack and Miri Make a Porno, and that barely cracked $30 million at the box office.
So now comes Observe and Report, an R-rated comedy sitting squarely on Mr. Rogen's broad shoulders and opening up against the tidal wave that will be Hannah Montana: The Movie. Sure they have wildly different audiences, but when Observe and Report barely reaches $10 million during its opening weekend, the articles about how Seth Rogen has "lost it" will start to pop up all over the place. And that's not fair. Mr. Rogen, no matter how hilarious, was never supposed to be a movie star. Let's not force him into a role he wasn't born to play.