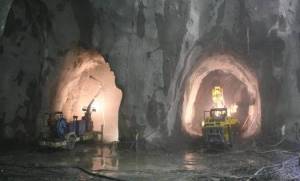 Mayor Bloomberg probably doesn't do all that much fraternizing with sandhogs, the rare breed of construction workers who dig the city's water and transit tunnels, working sometimes hundreds of feet below ground.
Today, however, was an exception, as the billionaire executive slipped a reflective vest over his suit, put on a hardhat, and chatted it up with a couple of workers who seemed twice his size as they watched a 100-ton drill bit of sorts get lowered into a newly created cavern below 26th Street and 11th Avenue.
The mayor was on hand to announce the start of tunneling in the 1.5-mile extension of the No. 7 line that would connect Times Square to the Javits Center upon completion (slated for 2013).
The project is no trivial initiative for the mayor, as it is the cornerstone—or main pillar—of his plan to transform Manhattan's far West Side into a new district for office space, hotels and residential development. The largest of the development is expected along 10th and 11th avenues, development that would surely be an impossibility without a transit line connecting to the rest of midtown.
Now that there are a handful of giant holes under Chelsea for the line, and soon to be two drills that are making tunnels, the likelihood that the project will actually come to fruition is increasing substantially (though no one has agreed to pay for cost overruns yet). But with the economy in shambles, the question becomes how quickly—or slowly—development will sprout up on the far West Side.
This is more than just an academic question. To fund the $2.1 billion budgeted for the extension, the city sold bonds that are to be repaid with the extra taxes expected from all the new development on the West Side. If development takes years to begin—or never happens—the city would need to use money out of its budget to pay the $100 million or so annually in debt service, adding to an already high debt burden.
At the announcement today, the mayor delivered what sounded like a slight plea to developers to get building again.
"If anybody's a developer out there, and if you want to know a good time to start, I can't think of a better time," he said. "People are ready to take the jobs, you can buy concrete and steel a lot cheaper than you could have before, and you'll have these buildings ready when our economy comes roaring back and people are going to need space."
Minutes later, standing on a small stage in front of the large tunnel boring machine, the mayor handed the podium over to his deputy mayor for economic development, Bob Lieber, with a telling introduction.
"It's Bob's job to make sure that we get development going on the West Side," he said, adding coyly, "If he wants to keep his job, he will do that."