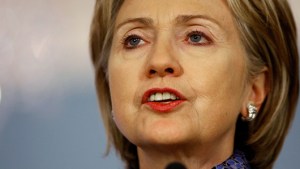 Is Hillary Clinton's much-anticipated modulation on Israel finally getting under way?
It depends on who's doing the telling.
As Clinton is set to make her first official visit to the Middle East as secretary of state, she has reportedly expressed her frustration with Israel for restricting the delivery of aid to Palestinians.
Under the headline "Clinton Warns Israel Over Delays in Gaza Aid," Ha'aretz reported that senior American officials told Israeli counterparts that "Israel is not making enough effort to improve the humanitarian situation in Gaza. According to the article, sources at the Israeli defense establishment confirmed that the United States is increasingly pressuring Israel to open more crossings for humanitarian aid into Gaza. The number of trucks allowed to bring aid to Gaza was reportedly much lower than what the U.S. and its European allies had expected.
One prominent American dove I spoke to hailed the possibility of even a tonal shift by Clinton as a significant development.
"That's great," Steve Clemons, a senior fellow at the New America Foundation who believes that America ought to be more aggressive in influencing Israel's relations with the Palestinians.
"It would be a logical step for her to take if she was going to try and send signals to the Israelis that you need to become part of the solution and not continue to aggravate and create the problem," he said. "We're not going to pump one billion dollars into Gaza for humanitarian aid and relief and be stymied by the Israelis because we are going to have to show results on the ground in Gaza that we are actually improving things."
According to Clemons, Clinton's frustration is likely a result of the obstacles encountered by Middle East envoy George Mitchell and Mara Rudman, who is expected to be one of the Obama administration's senior advisers in the Middle East. The administration has a roughly billion-dollar aid package to Gaza that will flow through a variety of NGOs, international institutions and he U.N. that is intended to sidestep Hamas and fortify moderate voices in the Palestinian Authority.
"What they are finding," said Clemons, "is that even if they do that they are hoodwinked and blocked at every step by Israeli border controls."
(Last week, John Kerry visited the Gaza Strip crossings. His message was broadly supportive of Israel and critical of Hamas, but he also criticized the Israelis for blocking pasta, but permitting rice, as humanitarian aid. After raising the issue to Israeli Defense Minister Ehud Barak, the pasta was allowed into the Gaza Strip.)
But some more hawkish backers of Israel refused to accept the premise at all, that Clinton is softening the solidly pro-Israel positions she took as a senator from New York. The report, one said, simply must have been wrong.
"That's just a report, not what I understand the State Department is saying took place," said Michael Miller, CEO of the Jewish Community Relations Council of New York, and a strong supporter of Clinton. "She's going to be in the region next week I think our assessment of Secretary of State Clinton should be based on how she based on how she conducts business in the Middle East rather than on Ha'aretz."
Miller expressed skepticism about the left-leaning paper's credibility.
"I know Israeli newspapers and Israeli media," he said. "I'm ready to go with named government official from Israel who said such and such happened. I think we are going to see a lot of that next week. And I'm ready now to cut a little slack for Secretary Clinton and see what happens when she enters the region."
"The Israeli press is notoriously unreliable," said an official with a prominent pro-Israel organization in Washington.
The official said that Israel advocates in the United States had received no indication that the administration was wavering in its support of Israel, or that Clinton was anything less than the Israel hawk the community had come to know and trust. "Ha'aratz is not a reliable outlet on how that dialogue is going," said the official.
From the looks of things, Clinton has little immediate opportunity to make progress on an issue upon which her tenure at State will ultimately be judged. Her ability to play a role in facilitating compliance with minor agreements about aid and access at crossings might, at least, be a first step.