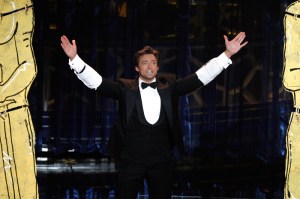 With the 81st annual Academy Awards firmly entrenched in the "success" category–the totally bananas telecast saw an increase of four million viewers from last year's disastrous all-time low; all hail Hugh Jackman–the book is officially closed on the 2008 Oscar season. Now we can take some time to think about more important things… like the 2009 Oscar season! The 82nd annual Academy Awards are just twelve short months away, but we're already excited about their potential. Just look at this list of directors scheduled to release a movie this year (deep breath): Peter Jackson (The Lovely Bones), Martin Scorsese (Shutter Island), James Cameron (Avatar), Ang Lee (Taking Woodstock), Steven Soderbergh (The Informant), Quentin Tarantino (Inglourious Basterds), Sam Mendes (Away We Go), Paul Greengrass (Green Zone) Spike Jonze (Where the Wild Things Are), Pedro Almodovar (Broken Embraces) and, naturally, Woody Allen (Whatever Works). And those are the movies we don't even think will reach the final five! Based on nothing but pure conjecture, here are our super-early guesses for next year's Best Picture nominees. At the very least, this gives Hugh Jackman some extra time to think of a song parody.
Untitled Nelson Mandela Project
Directed by Clint Eastwood and starring Morgan Freeman as Nelson Mandela, we're pretty sure the only way this film won't get a Best Picture nomination is if Mr. Eastwood shoots everything out of focus. And honestly, even then, it might be hailed as another artistic step forward for Hollywood's favorite septuagenarian.
The Tree of Life
The Tree of Life will be Terrence Malick's third film in the last eleven years, which for him qualifies as a glut. This latest, about a family of boys in the 1950s, stars Sean Penn and Brad Pitt. Do with that information what you will.
Nine
Based on the 80s musical, which itself was based on Federico Fellini's 8 1/2, Nine comes from Chicago director Rob Marshall and stars Academy Award-winner Daniel Day-Lewis and a cast of Academy Award-winning actresses (among them Nicole Kidman, Penelope Cruz, Sophia Loren, Marion Cotillard, Dame Judi Dench). But all you need to know is that Nine is a Weinstein Company release. If Harvey Weinstein was able to get five nominations for The Reader imagine what he can do with this.
Amelia
If Hillary Swank wins another Oscar, she'll have more trophies than Meryl Streep. Think about that. In Amelia, Ms. Swank plays Amelia Earhart, which could be perfect or could be grating. Meanwhile, we're especially pulling for this film because it comes from director Mira Nair, and only three female directors have ever been invited into the all boys club Oscar ceremonies. Sofia Coppola, Jane Campion and Lina Wertmuller need some company.
Public Enemies
We're having a hard time reconciling the fact that Danny Boyle has a Best Director Oscar but Michael Mann does not. Hopefully that changes in 2009. Public Enemies has all the hallmarks of a Best Picture contender, including a star heavy cast featuring Johnny Depp, Christian Bale, and the aforementioned Ms. Cotillard. The only problem? That July 1st release date. If you don't think opening in the summertime matters when it comes to Oscar, go ask Christopher Nolan.