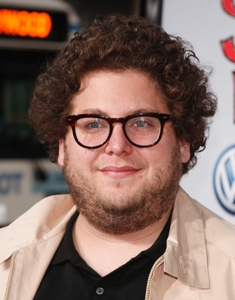 Apparently when Jonah Hill goes to sell a screenplay, he comes prepared with a full complement of talent. Universal Studios has reportedly paid the Superbad star seven figures for The Adventurer's Handbook, a script he co-wrote with his friends Matt Spicer and Max Winkler, and the plan is for the film to co-star Mr. Hill and Jason Schwartzman while being directed by The Lonely Island's Akiva Schaffer (who you might know as "the guy who isn't T-Pain or Andy Samberg" from the laugh-out-loud funny video for "I'm On a Boat"). Phew! That's a lot of people! As of now it's unclear whether or not Mr. Hill came to the Universal lot with a craft services person in mind as well.
If the name The Adventurer's Handbook sounds familiar, that's because it's actually already a book by Mick Conefrey that chronicles the history of some selected explorers and what their adventures can teach people. (Like, how to stop an anaconda from eating you whole, for instance.) Mr. Hill's co-written script isn't a straight adaptation of the book (thank goodness), but rather a tale about four 20-something friends who love Mr. Conefrey's tome so much they decide to go on an adventure to find one of the "mysterious locations" mentioned within it. Expect lots of cursing, as the script is reportedly a hard-R, and plenty of bromantic moments between the friends.
We're always happy to see Mr. Hill on screen. (Yes, even in Evan Almighty.) Of all the Apatow Players, he manages to be the only one who can really express full-on rage; when his eyes pop and his voice rises, Mr. Hill reminds us of Chris Penn circa Reservoir Dogs. And while on first glance The Adventurer's Handbook sounds too high concept to actually work, we do appreciate the effort to branch out from his natural comfort zone of slackerdom. To their credit, the current crop of comedy superstars has actively attempted to do that more often. (Seth Rogen might be committing career suicide with his wayward version of The Green Hornet, but at least he's trying!) And the idea of Jonah Hill and his friends playing miniature Indiana Jones' whilst telling dick jokes and getting high seems like a pretty smart way to start accomplishing that. Plus, now that he's boys with Jason Schwartzman, this can only mean one thing: Jonah Hill finding a spot in the next Wes Anderson movie!