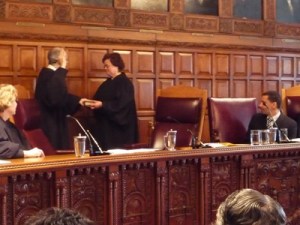 ALBANY—Judicial swearing-in ceremonies aren't always funny.
This one started with Acting Chief Judge Carmen Beauchamp-Ciparick welcoming David Paterson by saying, "We hope you will become a frequent visitor."
"Why?" Paterson asked, to laughs.
Later, when the governor began to speak, he said, "This is an extraordinary day in the history of New York state jurisprudence. The governor is in court – voluntarily."
On a roll, the governor said that children were laughing and playing and birds were chirping, because "almost every laywer in the state is in the same room."
And as Irene Liu already noted, when Beauchamp-Ciparick went to swear in Jonathan Lippman as chief judge, he noted that "this is not like Judge Roberts – she's going to get this right." (Shades of Biden!)
Then he spoke for 27 minutes, thanking everyone under the sun before the state's legal establishment retreated to the Bar Association for a reception.