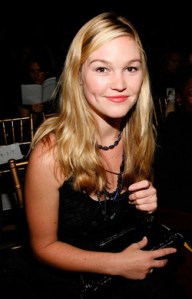 On Monday, Feb. 16, the crowd assembled outside the Jane Hotel on the West Side Highway before the Cynthia Rowley show was greeted by protesters upset about the conversion of building from an SRO into a hotel. Once inside the small, chandelier-lit chamber, though, seats filled quickly, even though the room seemed full of mostly photographers and cameramen–not necessarily notable guests. Odd, considering that blogs like Racked and Fashionista weren't allowed in. ("The Marc Jacobs show is going on right now," another attendee whispered to us, while we watched publicists fill empty V.I.P. seats with people from the "mezzanine.")
Between camera flashes we found Julia Stiles in the V.I.P. section. She was wearing a black sleeveless dress with what seemed to be tiny black feather embellishments. What did she think of Fashion Week so far?
"Um, it's really funny to me," she said, spinning to face us. "Because it's like, I'm sort of relieved that I don't work in fashion! Everybody seems stressed out all the time."
The actress Tatum O'Neal agreed. "The hectic-ness of the whole thing is a little more than I can bear," she said. "Unless I had a job at a magazine and I had to go [to another show], I dont think I could. I have to leave to go to L.A. to work tomorrow. I'm done. This is it. My friend Hunter was trying to get me to go to William Rast, Justin Timberlake's show. But not even that."
Ms. O'Neal continued: "And i think with the economy the way it is, I want to see clothes that are American made. I want to see organic fabric. I don't necessarily want to see us spending money on clothes. I want people to be eating, I think that's my thing this year."