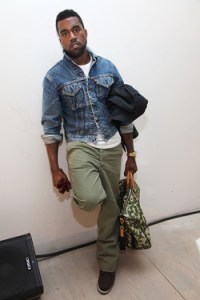 Musical selections from The Curious Case of Benjamin Button boomed loudly through the loft space on Canal Street where several models tried not to notice the excited, over-prepped members of Kanye West's entourage, who were posing for pictures at the Band of Outsiders/Boy fall '09 presentation on Sunday, Feb. 15.
Mr. West and his bow-tied, brass-knuckled constituents came for Band of Outsiders designer Scott Sternberg's fall '09 collection of worsted wools, tweed car coats, tropical tuxedo trousers, turquoise mohair blend sweaters, and yards of grosgrain taping. This year's show was inspired by the Nicole Kidman film Dogville ("Have you seen it? It's really rad," Mr. Sternberg told the Daily Transom.) 
We spoke with Mr. West as he was winding his way out. He was wearing olive green khakis and an open denim jacket.  
"Scott's the best," he said, semi-dramatically pulling up one pantleg to reveal the top of a boot. "These are theirs," he said, pointing at the boots and looking at us. We kept walking with him. "Hold on, I have to piss." He stopped us and we stood obediently outside the bathroom. He returned and made a joke about hand-washing.
"Now wait, I'm not doing that long of an interview," he said, when he noticed that we hadn't left yet. (Aha, he was trying to give us the slip via the old "I gotta piss" trick!) "I said: Scott's the best."
We returned to the showroom to find Details fashion director Michael Macko. "I'm going to mug that model and take his shoes," Mr. Macko said, pointing at a pair of  "wool-flannel boat shoes" on a nearby male model named Brad, who was working on a faux game of checkers. "I'm going to mug that model and take his shoes and then I am going to fashion-cap your ass—that might be a Fashion Week first!"