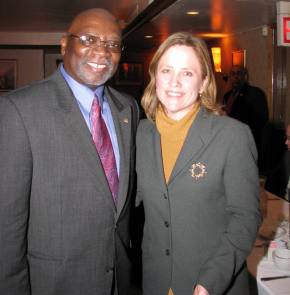 City comptroller candidate and Councilwoman Melinda Katz was endorsed by two more unions at a breakfast (not a fund-raiser!) she hosted for organized labor yesterday morning.
Dennis Quirk of the Court Officers union and Ernest Logan of the Council of School Supervisors and Administrators both announced their endorsement of Katz at the event, according to Katz's campaign.
Katz made an early play for union support, which could prove pivotal in a race that's competitive, but may not get as much attention as the mayor's race, or the more crowded public advocate's race. Also running are City Council members David Yassky and David Weprin.
Yesterday's event was hosted by Stuart Applebaum, president of the Retail Wholesale and Department Store Workers at a restaurant on East 29th Street. And, according to the campaign, so were a number of labor leaders who have not made endorsements in the race.
Here's the list:
Marvin Reskin & Briget Rein (United Federation of Teachers)

Carol Pitman (New York State Nurses Association)

Jack Kittle (Painters DC 9)

Richard Fitzsimmons (Laborers' Local 147)

Michael Halpin (Elevator Constructors)

George Mirand (IBT District Council 16)

Ed Ott & Heather Boudin (NYC Central Labor Council)

James P. Conway (International Union of Operating Engineers Local 14-14b)

Peter Meringolo (NYS Public Employee Conference)

Ed Boles (Uniformed Fire Officers Assocation) Oscar Alvarado & Susan Chin (DC 37)

Ken Bordieri & Gail Rogers (Retail Wholesale and Department Store Workers Local 1-S)

Alan Schulkin (Public Employees Federation Region 11)

Steve McInnis (NYC District Council of Carpenters)

Bill Henning (Communication Workers of America Local 1180)