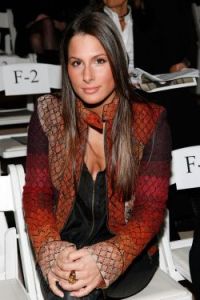 By the start of Andrew Buckler's men's wear presentation at 5 p.m. on Valentine's Day, the news had already spread that former New York governor Eliot Spitzer's costly paramour Ashley Dupre had been venturing out for Fashion Week.
The previous morning, Ms. Dupre had shown up unexpectedly at Yigal Azrouel's women's show. Mr. Azrouel's front-of-house PR manager (and MTV reality show personality) Kelly Cutrone seated her in the front row. Although Ms. Dupre went relatively unnoticed, reporters quickly spread news of her presence. Mr. Azrouel, who had posed backstage with the foxy and tan 23-year-old (he apparently didn't know who she was at the time), was not pleased—he canned Ms. Cutrone and her firm, People's Revolution, later than night.
But about an hour into Mr. Buckler's Oscar Wilde-themed presentation on Saturday evening, as they mingled with guests sipping on absinthe cocktails in the cave-like lower level of the designer's SoHo store, Ms. Dupre and Ms. Cutrone, who represents Mr. Buckler, laughed the whole thing off.
"I think everyone's so focused on the designers and Fashion Week," said Ms. Dupre, whose black Christian Louboutin boots gave a few inches to her petite stature, when the Daily Transom asked if she'd encountered any cold stares while perched in front of the catwalk. "I mean, at the shows I've been going to, that's been the focus."
"That's not true!" chuckled Ms. Cutrone, who was wearing black jeans and a black coat over a black-and-white striped t-shirt, her hair (also very black) pulled back into a skinny braid. "Yeah, there was no big deal," she joked.  
"I mean, well, besides that one," Ms. Dupre said.
 
"I'm just really happy to have you here," Ms. Cutrone replied, turning to the Daily Transom. "I'm happy that she came. I think she's great."
Which raised the question: How and when did these two become such good pals?
Ms. Cutrone said their friendship began a few months ago. Ms. Dupre has been working on an album ("It's gonna be deep pop," she said) with Avril Lavigne producer Peter Zizzo, and some of Ms. Cutrone's "music people" associates suggested the two should meet. The rest was history.
"When I met her I was like, you know what, I really like this girl," said Ms. Cutrone. "I'm vehemently opposed to morality, and I think that people who are insistent upon propelling morality ultimately hang themselves."
Meanwhile, upstairs, 15 male models were posed atop box-like risers opposite a black brick wall adorned with candles and dead roses. The music was solemn—a medley of live classical piano that began with Beethoven's "Moonlight Sonata."
The British-born Mr. Buckler, whose eponymous clothing line has outfitted rock stars including The Rolling Stones and The Strokes, described his fall 2009 collection, with its focus on tailoring and woolens, as something of a departure from Buckler's denim-heavy origins. He said it was inspired by The Picture of Dorian Gray, Wilde's 1891 novel in which a handsome young man sells his soul for perpetual youth while his face in a painting decays with age.  
"We looked at the shirt of the era, the kind of thing that Dorian Gray might have worn, and we looked at aging and time. We'd take a beautiful fabric and slowly keep washing it," said Mr. Buckler, dressed head to toe in his own designs, including a gray cashmere sweater and a bamboo pant from his new collection.
Of course one couldn't help but wonder if the evening's melancholy aura was partly inspired by the grave economic reality facing the fashion industry. Indeed, Mr. Buckler has experienced some financial woes of his own, as reflected in recent staff layoffs and his decision to do a presentation rather than a full show.
Might his clothing line one day meet the same tragic fate as Dorian Gray?
"We've had to scale it back to the bare bones," he said. "But we're okay."