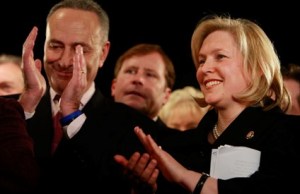 As I reported in today's Observer, Kirsten Gillibrand's listening-tour-style travels around the state are also intended to set certain parameters about the role she expects to play in New York politics for years to come.
But as of now, she is still something of an unknown quantity to most New Yorkers, and the assumption is, as Senator Chuck Schumer has suggested,  that she will follow his lead on issues on which she doesn't have much experience.
In a telephone interview yesterday afternoon, Gillibrand called Schumer a "mentor and a friend" but made it clear she will chart her own course.
"There may well be areas where I think an approach may be better that one approach and he may have the opposite view. For example if we go through all of [Treasury Secretary Tim] Geithner's plans and Senator Schumer and I each assess each part of his plan, Senator Schumer and I may agree or disagree on any one given part of that plan based on our own experience. So there may well be substantive policy areas where we have different perspectives, but I think on the overall agenda there's going to be a lot of agreement."