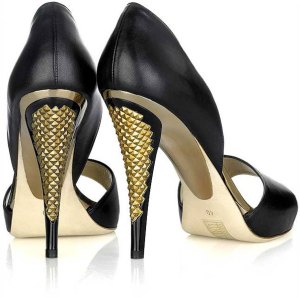 Recently, Redbook editor in chief Stacy Morrison was searching for the perfect shearling coat. "I did a quick lap of some of the stores here, but if I'm going to spend that much money on a coat, I want the coat to blow my mind," she said the other day by phone. "So for maybe two or four nights in a row I did exhaustive Internet research—it all sounds so silly, but I wanted the raw-edge skins instead of the coat being all cut into a fine coat shape—and I figured out who the distributors in America are, and could I get one wholesale …"
Ms. Morrison found the Web site of a manufacturer in Essex, England, showing 45 different kinds of coats. "The quality looked amazing, the styling looked amazing." After several conversations with the site's owner, she bought a spectacular black shearling number for just over four figures and had it sent to her office, where it caused quite a ruckus, as staffers who'd been hearing about it for weeks flocked to behold it. The whole experience was like "entertainment to me," the editor said. "It's a sport."
Much ink has been spilled on the eerie desertedness of Fifth Avenue; the decline in foot traffic in Soho; the increasing numbers of empty storefronts in the city's main retail districts. But there is one place in the city where retailers are still doing a brisk business: cubicles (home offices, for unemployed shoppers)! In a moment when shopping feels shameful, where better to engage in competitive pricing than the privacy of one's workspace, where a quick "Alt Tab" can hide an incriminating window if the boss strolls by?
Socialite and novelist Tatiana Boncompagni said she likes to browse through Barneys after meetings in midtown and try things on, only to later Google them and wait until they're on sale elsewhere on the Internet to make the purchase. Glamour editor Susan Cernek found a $900 pair of Givenchy booties on Amazon.com for $200 (Amazon is particularly appealing to guilty online shoppers, with its plain, generic brown packaging concealing the nature of the items inside). Luxury hub Net-a-porter.com offers same-day messenger service to New York customers. And at noon each day, hundreds of thousands of women (and men) here log on to members-only Gilt Groupe, a designer sample-sale Web site at gilt.com, and begin clicking madly in hopes of snagging items like a $108 silk jacquard ruched dress ($385 retail) by Adam Lippes, or a $2,398 strapless black silk cascade gown ($7,950 at retail) by Oscar de la Renta. They type credit card digits rapid-fire lest the coveted item drop out of their shopping basket, not unlike signing on for tickets to an Arcade Fire concert or reservations at Momofuku Ko.
"We have women who are not gun-shy about buying designer gowns that retail for $5,000 because they feel like they're getting a great deal buying it for $1,000," said Alexandra Wilkis Wilson, co-founder of the site. She said the sales regularly sell out in hours. The site's fourth-quarter sales in 2008 were double its third-quarter sales.
"The reality is that people are still shopping aggressively," Ms. Wilson said. Just not where anyone can see them.
FURTIVE FULDS
The tale of Kathy Fuld—wife of fallen Lehman chief Dick—who in December asked Hermès for unmarked bags to hide her unseemly recession consumerism, is perplexing to the e-commerce enthusiast. "Hermès has an online shop, she could've just ordered it online!" exclaimed Tina Craig, founder of the popular handbag blog BagSnob.com, the other day. (Ms. Craig directs readers to European sites like LuisaViaRoma.com, where she has discovered that an American shopper can buy in pounds and take advantage of the increasingly favorable exchange rate.)
The sales-aggregating site ShopItToMe.com emails subscribers daily or weekly when any number of brands and/or items they've pre-selected go on sale at various online retailers; three of the San Francisco–based site's top five ZIP codes in terms of numbers of users are in New York: 10016, 10003 and the Upper East Side's famous 10021.
"Absolutely, people who might have normally walked around in the Soho area or on Fifth Avenue are more likely to be at their computer and shopping online," said founder Charlie Graham. ShopItToMe.com currently has "well over a million" subscribers, and grew by 500,000 in the fourth quarter of 2008 alone.
Despite the austere picture painted by layoffs at Saks and Tiffany, fashionable New Yorkers are still shopping, and shopping often. You just may not know it, because rather than pass an afternoon strolling leisurely through some abandoned luxury retail behemoth, they're sitting in their cubes with lattes, looking as though they're working very hard to keep endangered jobs.
Sites like Gilt Groupe and ShopItToMe keep these individuals abreast of markdowns on a weekly, even daily, basis, needling them subtly and persistently until any pesky recession-induced caution flies out the window and they can withstand the deals no longer. Many of these sites have capitalized on struggling retailers' excess 2008 inventories, the result of orders placed before the full scale of the economic downturn became clear. And they just keep coming: The aforementioned Net-a-porter.com will launch its own sample sale site, OutNet.com, in April. GlamList, HauteLook, Ideeli and BillionDollarBabes.com are among the many others already up and running, most cultivating a members-only feel by requiring invitations or referrals.
Ms. Morrison is a member of ShopItToMe and Ideeli and is waiting to be invited to Gilt. "The moment is one where people feel guilty about spending money," she said. "But at the same time, you need things, you want things!"
She added: "I've been known to de-stress by looking at JCrew.com. The colors are just so pretty and soothing and relaxing."