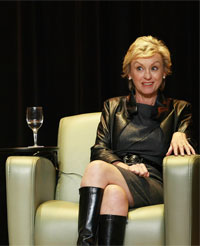 How's the traffic for Tina Brown and Barry Diller's Daily Beast? According to John Koblin, "It seems the early curiosity and endless pitching on television that gave the site its big start aren't enough to keep numbers up: they had fallen 17 percent by the end of December from their November heights, according to compete.com, a Web analytics research site…" Plus: Condé Nast Seeks New Nest.
Leon Neyfakh talks to former Publishers Weekly editor Sara Nelson, who says, "I think these people are rock stars, I always did… I think they're cool. I'm much more interested in hearing about what's going on in Sonny Mehta's head than I am in George Clooney's."
Plus: Martin Schaedel… The Dawn of Post-Journalism… Ravelry.com.