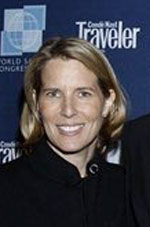 The New Yorker's publisher Drew Schutte is leaving the magazine to become the senior vice president and chief revenue officer of Condé Nast's newly consolidated internet group, Condé Nast Digital.
Mr. Schutte is leaving the magazine just two years after he got the job, following a tough year when the publication saw a 26.8 percent loss in ad pages. According to a source, Si Newhouse and Condé Nast C.E.O. Chuck Townsend didn't feel Mr. Schutte has been a good fit for the magazine—particularly during a recesion—but given his background (years at Wired, Business Week and PC Week) he's the right guy for the digital gig.
Meanwhile, Lisa Hughes has been named the new publisher of the magazine, which makes her the fourth one that David Remnick will work with in the decade-plus he's been The New Yorker's top editor. Ms. Hughes has been the publisher of Condé Nast Traveler since 1995, a 14-year span regarded as an eternity in publishing circles. A source tells us, "She's tough, smart, but this will be a really big test for her."
Here's the full release:
DREW SCHUTTE NAMED SENIOR VICE PRESIDENT
& CHIEF REVENUE OFFICER OF CONDÉ NAST DIGITAL
LISA HUGHES NAMED VICE PRESIDENT
& PUBLISHER OF THE NEW YORKER
February 5, 2009 (New York, NY) — Drew Schutte has been named Senior Vice President & Chief Revenue Officer of Condé Nast Digital, it was announced today by Charles H. Townsend, President and C.E.O. of Condé Nast. This newly created position takes effect immediately.
Mr. Schutte will be responsible for all sales and marketing for Condé Nast Digital. He will manage the newly consolidated digital sales team and work closely with the publishers on integrated sales throughout all of the company's titles.
"Drew has a proven track record of selling online and print—as well as an understanding of the complexity of selling integrated campaigns—which makes him uniquely qualified for the job," Mr. Townsend said.
Mr. Schutte became VP & Publisher of The New Yorker in January 2007. Previously he was VP & Publishing Director of Wired Media. He joined the magazine in 1994 as West Coast Advertising Manager. Before joining Wired, Mr. Schutte spent three years at Business Week based in San Francisco. Prior to that he was East Coast Manager for PC Week and West Coast Manager for Inc.
Mr. Townsend also announced that Lisa Hughes is being named Vice President & Publisher of The New Yorker. Her position is effective immediately.
"Lisa is an experienced publisher, a strategic thinker, and an innovative marketer who is inherently well suited to lead the business side of The New Yorker," Mr. Townsend said.
Ms. Hughes has been Vice President & Publisher of Condé Nast Traveler since 1995 and has guided it through some of its most successful years. In 2008, Condé Nast Traveler was named to both Adweek's "Hotlist" and Advertising Age's "A-List." Previously, she held positions as VP & Publisher of House & Garden, and as Associate Publisher of Vanity Fair. Ms. Hughes began her career at Condé Nast in sales at Mademoiselle.
Condé Nast, a unit of Advance Publications, includes twenty-three consumer magazines, Condé Nast Digital, the Fairchild Fashion Group, Parade, the Condé Nast Media Group, and the Shared Services Centers.