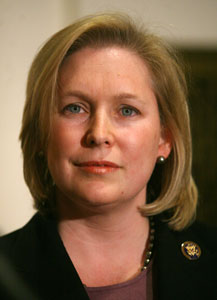 No incumbent ever, particularly one who wasn't elected to her current seat, wants to trail a potential challenger by double digits in a poll—especially a poll of primary voters.
In that sense, the new Quinnipiac survey that shows Kirsten Gillibrand trailing Representative Carolyn McCarthy 34 to 24 percent in a hypothetical Democratic primary match-up is a disquieting development for the newly appointed senator. It's also something of a surprise, since McCarthy, who was first elected to her Long Island House seat in 1996, isn't any better known than Gillibrand.
Gillibrand should certainly take note, but her situation may not be as dire as it seems.
Gillibrand has generally made a good impression on voters since her selection last month. Overall, her favorability-unfavorability rating is 24 to nine percent (28 to eight percent among Democrats) and she has a job approval rating of 28-10 (35-10 among Democrats). Nearly two-thirds of voters don't have an opinion of her yet.
McCarthy scores an identical favorable rating, with just as many voters not expressing an opinion.
Gillibrand's problems seem to come from New York City and its suburbs. For instance, in New York City, she scores an anemic favorability rating of 20-13, while McCarthy notches a robust 36-8 percent. And 40 percent of New York City voters disapprove of Gillibrand's selection.
Taken together, all of these numbers suggest several things:
1) Gillibrand's less-than-liberal posture in her old upstate congressional district (particularly her gun control opposition) is hurting her among the culturally liberal Democrats in and around New York City.
2) These same culturally liberal Democrats mainly know McCarthy for her fervent gun control support. This gives her a reservoir of goodwill among primary voters in and around New York City—especially when the alternative is Gillibrand, who, although she is "evolving" on some issues, is still defined mainly by the conservative positions she took in the U.S. House.
3) McCarthy is virtually unknown outside of the New York City area.
4) Generally speaking, Gillibrand's introductory tour is going well, as measured by her solid job approval and personal favorability scores.
A case can be made, then, that McCarthy is already hitting the ceiling of potential support-liberal New York City and suburban voters who are reflexively repulsed by Democrats who oppose gun control. And Gillibrand is already making some inroads with these voters, and has time to do more.
That she is receiving cover from prominent Democrats like Chuck Schumer and adjusting her positions will probably help (although she also figures to gain a reputation for expediency). Her numbers around New York City will probably only improve over the next year.
Meanwhile, it's doubtful that McCarthy will be able to make comparable inroads of her own outside of the New York City area in 2009.
Gillibrand has plenty of work to do, and it is surprising to see her trailing McCarthy at this point. But it's still not unreasonable to say she has a leg-up on McCarthy heading into 2010.