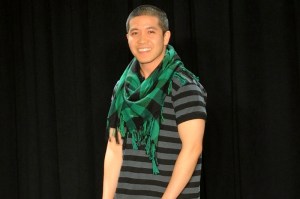 On Friday, February 20, the last day of Fashion Week, designer Thakoon Panichgul of the label Thakoon collapsed into an egg-shaped chair at Bergdorf Goodman's white-tableclothed seventh-floor restaurant for tea with the Daily Transom. The fashion industry cafeteria of sorts had been offering an elaborate afternoon tea service all week courtesy London's Berkeley Hotel (it was called it Pret-A-Portea, not to be confused with midtown sandwich chain Pret-a-Manger).
Fashion Week had been a long slog, said the designer. "I'm soooo tired. I can't catch up on sleep." He was wearing the same red plaid shirt he'd been wearing all week, he said, paired with a contrasting green plaid scarf. He was planning to meet with the buyers from Berdgorf later that day: "I can't generally say that everyone is having a hard time, but what I can say is I think everyone is cautious about what they're buying," he observed.
He'd been meeting with retailers all week since his Monday runway show, which had been attended by Ikram Goldman, Michelle Obama's Chicago-based boutique-owner stylist, and her Social Secretary Desiree Rogers, who was photographed sitting next to Anna Wintour in the front row. Mr. Panichgul owes his household-name status to Ms. Obama's appearance in a red dress of his design at the Democratic National Convention last summer. After the show, he had retired with a few friends and colleagues to the brand-new Cooper Square Hotel, where they had sat around a fireplace. "Your mind has been thinking for so long that it doesn't want to think anymore," he said, of his usual post-show feeling of "emptiness."
He was hopeful that the First Lady's embrace of fashion would help return a certain gravity to the industry. "For so long, there was a celebrity culture that kind of took… fashion into something that was light and frivolous," he said. "Now I hope that fashion will not be looked at in that way. Because I think it's such an important part of culture and living."
While he'd been pleased with the largely positive reviews of his show (Women's Wear Daily called it "beautiful from beginning to end"), he was somewhat tired of talking about it.
"People want it to be like, 'I was inspired by the 40's, and, you know, my trip to Africa!'" he said. "People want those angles to write about. For me, it's a little more complicated than that… It's a way of looking at fashion that's sort of old-fashioned, you know, the idea of designers being inspired by something as sort of concrete as Africa."
Mr. Panichgul is from Thailand by way of Omaha, Nebraska, and when he first moved to New York after attending college in Boston, he was on the other side of Fashion Week, as a reporter for Harper's Bazaar. "I never wanted to be a writer, I never wanted to be a reporter, I took the job because I knew it was going to give me knowledge in fashion," he said. "Having talked to designers, having met with people who create, I felt like it was sort of more my speed and my game, and it was something I wanted to do more, instead of just reporting about it."
On Tuesday, Mr. Panichgul would be off to Milan to show a capsule collection he designed for leather brand Hogan, and then back to New York, where, instead of packing for a vacation in the tropics like many designers, he would go straight from the airport to pick up his new puppy, a chihuaha/yorkie mix (or "chorkie") that he planned to name Stevie, after Stevie Nicks, and carry around with him everywhere. "My mom never let me have a dog," he explained.
He turned his attention to the elaborate tea spread set out between him and the Daily Transom. He had agreed to tea in part because Bergdorf's, one of his biggest accounts, had made a cookie inspired by one of his flowery frocks; it teetered atop the multi-tiered platter. (Other participating labels included Marchesa, Oscar de la Renta, and Chanel). The sugary concoction had been nibbled at or purposefully avoided by editors, socialites and buyers all week.
"I wish they had done some legs," he observed, of the cookie. Another frosted cookie was shaped like a Louboutin shoe.
He skipped the sugar and bit into a tuna puff pastry.
"I live in Chelsea and I never come up here," he said. "It's just like a no-man's land, but sometimes… there's something nice about uptown lunch. The food is good."