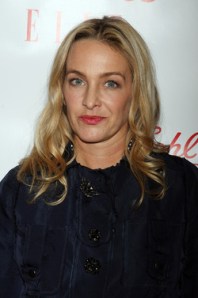 When the Daily Transom spotted a groggy-looking Anne Slowey (of Elle and the CW reality show Stylista) in the front row of Carolina Herrera yesterday morning, we realized that we hadn't seen Ms. Slowey at any shows all weekend–though we'd spotted her colleagues, Elle editor in chief Robbie Myers and creative director Joe Zee,  out and about.
"I actually just got off the plane from seeing my mom in Indiana and am feeling a bit out of it," she said. "I booked my flight before they changed the show dates so I couldn't change. I had to put in my mom's adapter converter box for her analog TV." (This digital conversion stuff is complicated!)
That sounds important!
"Whe you're 85 that is really important," she replied. "She won't get rid of the TV and she won't get a new one. So I spent my entire weekend going to Circuit City and Best Buy, getting all that stuff, which I know nothing about."
Was Ms. Slowey bummed about missing some of the shows?
"Oh yes, I missed Jason [Wu] and Alexander Wang and Ohne Titel, whom I love so much," she said. "Instead I was in a car and driving into a suburban strip mall and was basically getting ready to shoot myself. I would have much rather been at a fashion show."