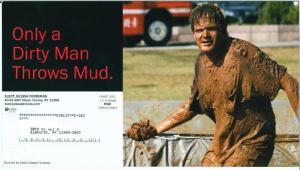 Here's a campaign mailer from City Council candidate Julissa Ferreras, which accuses an unnamed male opponent of throwing mud at her.
It also works as a subtle reminder that she's the only woman in the race.
It's a perfectly legitimate point for her campaign to be trying to make. But in terms of mud, it should be pointed out that there's also been a fair bit of it coming from Ferreras side.
Also worth noting is the back of the mailer. Ferreras' former boss, State Senator Hiram Monserrate–who is accused of attacking his girlfriend–is notably absent from a photograph of local elected officials endorsing her.